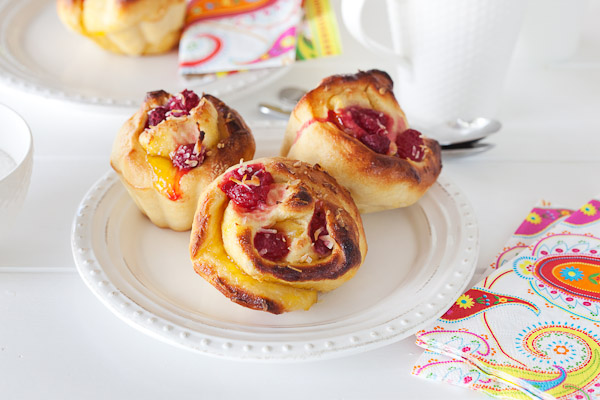 1/2 cup milk, warmed
1 1/2 teaspoons active yeast granules
1 tablespoon sugar
2 egg yolks
1 egg
3 cups high grade flour (more if mixture is too sticky)
75 g butter, softened
1/2 cup lemon curd
1 punnet raspberries
1/2 cup coconut thread
Method
Combine milk, yeast and sugar in a small bowl and leave until the yeast froths – approximately 5 minutes.
Lightly whisk egg yolks and egg and stir into milk mixture.
Place the flour in a bowl and make a well in the centre. Pour in the liquid along with the butter and mix well until mixture forms a dough.
Tip the dough out onto a lightly floured board and knead for 10 minutes until smooth and elastic, I use a cake mixer with a dough hook ( The dough is soft in texture and will be a little stickier than bread dough). Place dough in a bowl, cover and sit in a warm spot for 1 hour until doubled in bulk.
Preheat the oven to 180 C.
Turn the dough out and roll into a rectangle approximately 20 cm x 40 cm. Spread dough with lemon curd and sprinkle with raspberries.
Starting from the longest side roll dough into a log and then slice into 4 cm pieces. Place the dough with cut side facing up into non stick muffin or brioche moulds.
Brush with egg if desired and sprinkle with coconut.
Bake for 15 – 20 minutes until golden.
* If using frozen raspberries then sprinkle with icing sugar as they are generally tart.