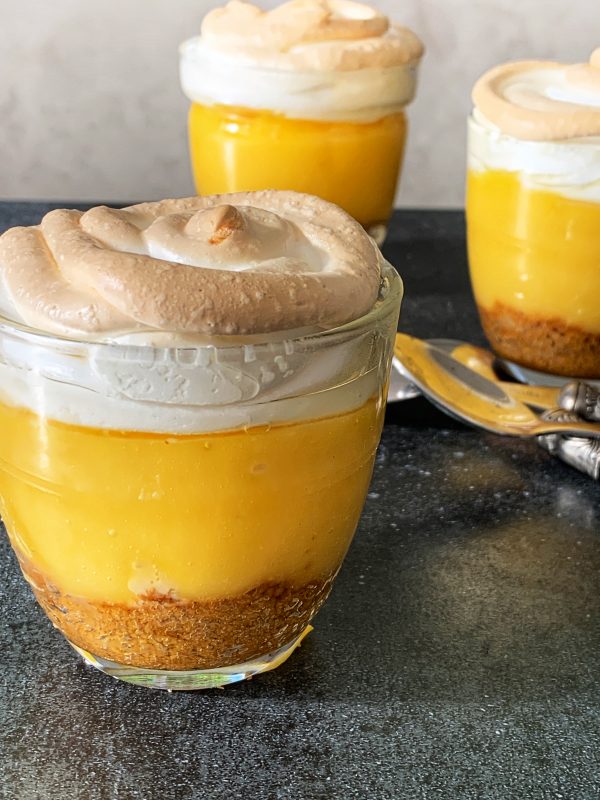 These pots are a fun variation on lemon meringue pie, are much easier to make and easy to convert to gluten free if needed.   The flavour of ginger biscuits in the base goes so well with lemon.
Ingredients
200g

ginger biscuits (gluten free if you like) 1 cup sugar 1/2 cup lemon juice 1 tablespoon grated lemon zest 2 tablespoons cornflour

75g

butter, melted

300ml

cream

1/2 cup

milk

1 cup

sugar

1/2 cup

lemon juice

1 tablespoon

grated lemon zest

4

4 free range eggs, separated

1

1 whole egg

1 cup

caster sugar (for meringue)

1 teaspoon cornflour
Method
Preheat the oven to 180 C. Place the biscuits into the bowl of a food processor and blitz to crumbs, add the butter and mix well. Press the biscuit crumbs into the base of 6 small jars (about 3/4 cup capacity) or ramekins, they must be heat proof.In a small saucepan whisk the egg yolks, egg, sugar, lemon juice, zest, sugar, cream and cornflour together over a gentle heat until the mixture boils and thickens. Remove the heat. Spoon the mixture between the jars and smooth the top.
To make the meringue: In a clean bowl beat the 4 egg whites until fluffy and then gradually add the sugar until the mixture makes a glossy meringue, continue to beat for a total of about 7 minutes, mixing in the teaspoon of cornflour at the end of mixing. An electric mixer is best for meringue. Spoon the meringue on top of the lemon filling or alternatively pile into a piping bag and pipe. Any excess meringue mixture can be spooned onto a tray and baked. Bake the lemon meringue pots for 12 minutes, just until the meringue is golden. Serve warmish/room temperature or chilled. Serves 6.