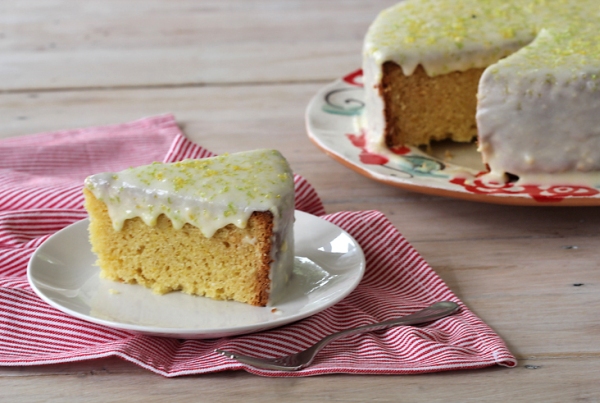 Ingredients
220g butter
1 1/2 cups sugar
3 eggs
3 tablespoons grated lemon or lime zest
3 cups sifted flour
1 1/2 teaspoons baking powder
3/4 teaspoons baking soda
1 1/2 cups sour cream
1/4 cup milk
Method
Preheat oven to 170 C.
Beat butter and sugar until pale and creamy, add zest and eggs.
Add 1/2 of the combined dry ingredients and when almost mixed add 1/2 the
combined wet ingredients. Then add flour (reserve a small amount to finish
batter), then remaining wet ingredients. Add the final reserved flour. Fold
gently but thoroughly.
Pour into a lined 26cm round cake pan.
Bake at 175 degrees Celsius for 35-40 minutes until cake tests cooked.
Allow to cool for 10 minutes before turning out from the tin.  When cold ice with lemon icing.