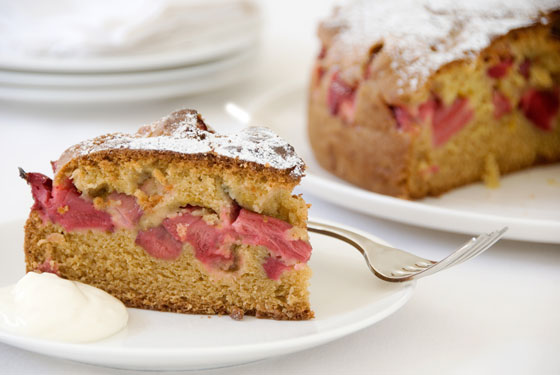 Ingredients
160g butter
350g brown sugar
2 eggs
500g rhubarb, sliced into 2cm pieces
finely grated rind of 1/2 orange
1 teaspoon vanilla essence
300g flour
1 teaspoon baking soda
1 teaspoon salt
1 teaspoon cinnamon
250ml sour cream
brown sugar and cinnamon for top
Method
Preheat oven to 180 C Beat butter and brown sugar until creamy. Add eggs one at
a time beating well after each addition. Stir vanilla then the sifted flour, baking soda, salt and cinnamon. Gently
fold in sour cream. Pour half the batter into a greased and lined 22cm round cake tin and then top with rhubarb and orange rind. Cover with remaining batter.
Sprinkle mixed brown sugar and cinnamon over the top. Bake for 50-60minutes.