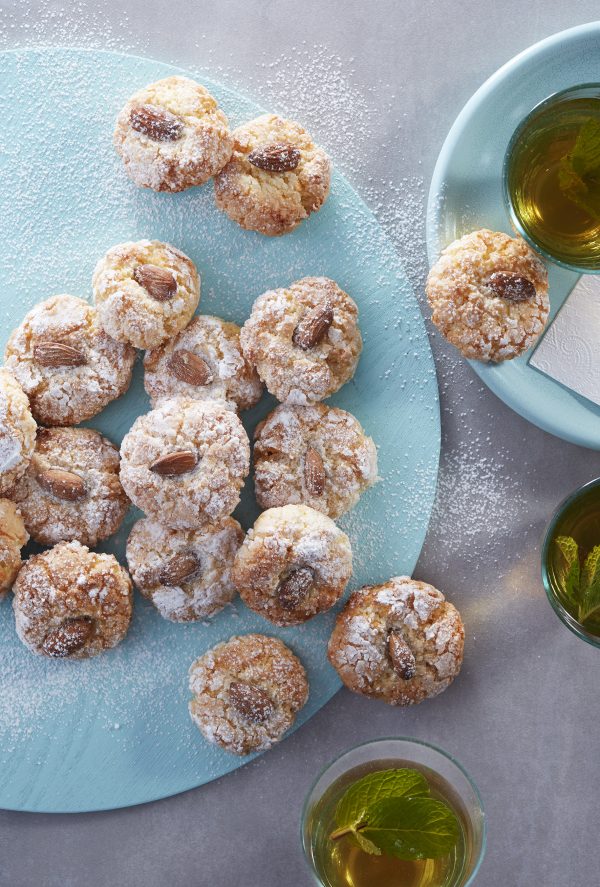 We ate these lovely little biscuits everywhere in Morocco.  The more my glass of mint tea was filled, the more biscuits I seemed to eat.
I don't profess that mine are as good as those we tasted in Morocco but they are good enough.
Ingredients
2

eggs

1/2 cup

sugar

50g butter. melted

2 tablespoons mild flavoured olive oil

finely grated zest of 1 lemon

1 cup

ground almonds

3 cups

desiccated coconut

1 teaspoon

baking powder

orange blossom water (optional but it does make a difference)

3/4 cup

icing sugar

30 (ish) almonds
Method
Preheat the oven to 180 C and line 2 baking trays with baking paper.
Beat the eggs and sugar together until pale and creamy.
Mix in the melted butter, oil and lemon zest followed by the almonds, coconut and baking powder.
Form the mixture into small balls, the size of a small walnut.
Roll these in the icing sugar and then using your fingers gently press them to a disc on the line tray.  Press an almond into the top of each biscuit.
Leave to rest for 10 minutes and then bake for 10 minutes until golden.
Cool on a wire rack and store in an airtight container.
They are wonderful served warm with a glass of mint tea!
(To make mint tea immerse fresh mint leaves into a pot/cup of green tea.  Moroccans add sugar as well).