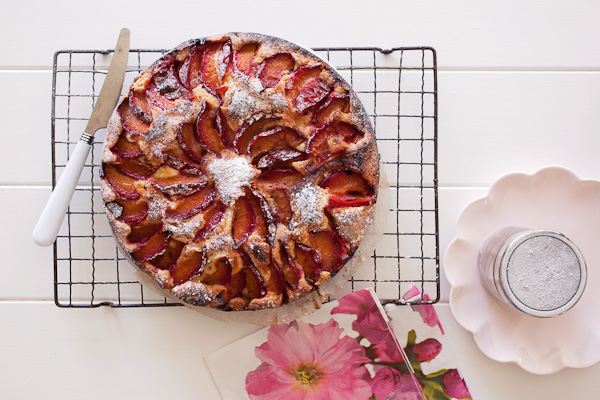 By
Ingredients
8

large plums (or use canned if needed)

1/4 cup

white sugar

300g

butter, softened

1 1/2 cups

sugar

3

eggs

1/2 cup milk

1 teaspoon

vanilla extract

1 1/2 cups

flour

1 cup

ground almonds

1 teaspoon baking powder

icing sugar for dusting
Method
Slice the plums and toss with sugar in a bowl, set aside.
Preheat oven to 180 C.  Line a 26cm cake tin with baking paper or alternatively use a large lasagne style baking dish.
Beat butter and sugar until pale and creamy, add eggs, one at a time, beating well after each.
Add milk, vanilla and then combined flour, almonds and baking powder, gently mix.
Spread batter evenly into cake tin and then cover the surface with sugared plums.
Bake for 45 minutes - 1 hour, until cake tests cooked.  Cover the top if it colours too quickly.
Serve fresh and almost warm with a dollop of yoghurt.