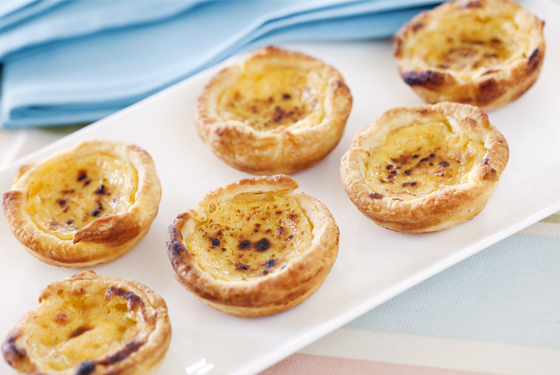 By
Ingredients
1

vanilla pod, split open lengthways

1/2 cup

caster sugar

4

egg yolks (size 7 eggs)

2

teaspoons finely grated orange rind

3/4

cup milk

1 cup

cream

2 teaspoons

cornflour

2

sheets butter puff pastry

1 tablespoon

caster sugar
Method
Scrape the seeds from the vanilla pod and place in a saucepan along with , sugar, egg yolks, orange rind, milk, cream and cornflour.  Whisk over a gentle heat until mixture boils and thickens.   Remove from the heat and allow to cool.
Preheat oven to 200 C. Place pastry sheets on a bench and cut both in half.  Sprinkle 2 of the halves with caster sugar and then place the halves without sugar on top, you will have 2 rectangles of double thickness.  Starting at the short side, roll each pastry layer up tightly into a log.  Allow the pastry to sit for 5 minutes and then slice into 1 cm thick pieces.
Turn the rolls of pastry over so that they lie flat and the spiral is facing up and then roll with a rolling pin into a disc.  Butter 12 patty pans thorougly and line each with a pastry disc.
Half fill each pan with cooled custard.  Bake for 15 minutes until pastry is golden and custard is browning on top.
Allow to cool to warm or room temperature before eating.