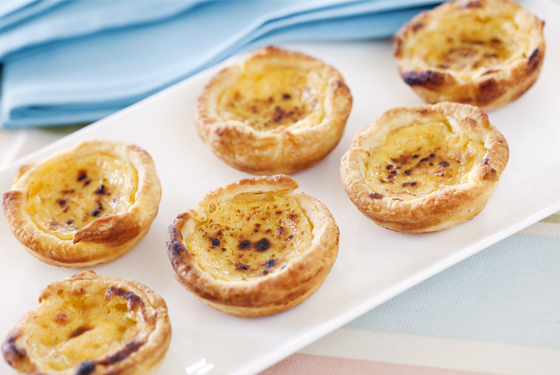 Stephanie
Ingredients
seeds from a vanilla pod
100g caster sugar
8 egg yolks
finely grated zest of 1/2 orange
2-3 drops of lemon oil (Boyajian)
500mls cream
1 packet pre-rolled puff pastry
Method
Mix the seeds into the castor sugar and then mix with the yolks, orange zest, lemon oil and cream. I always use the microwave to make a custard of this type - very carefully - 1 minute zaps at half power, whisking between each until it thickens. Leave to cool. This is enough filling for 24 tarts.
Now for the pastry cases. Sift a light sprinkle of caster sugar over the (4) squares of pastry. Roll up tightly. Cut each roll into 6. Using a little more castor sugar press each piece into a disc and roll out (between the blue plastic that divides the pastry sheets) into a 10cm circle and fit into well buttered muffin tin.
Preheat oven to 200 C.
Half fill each pastry case with custard. Bake for 15-20 minutes. Part of the charm is a small amount of scorching. The filling will puff up and look as if it's separated and ruined but all will be well. Serve them warm or at room temperature with excellent coffee. (No cream or extra anything!)
DISCLAIMER:
The recipe above has been supplied by a member of the public and has not been individually tested by Helen Jackson. Helen Jackson does not accept any liability in relation to publication of this recipe.