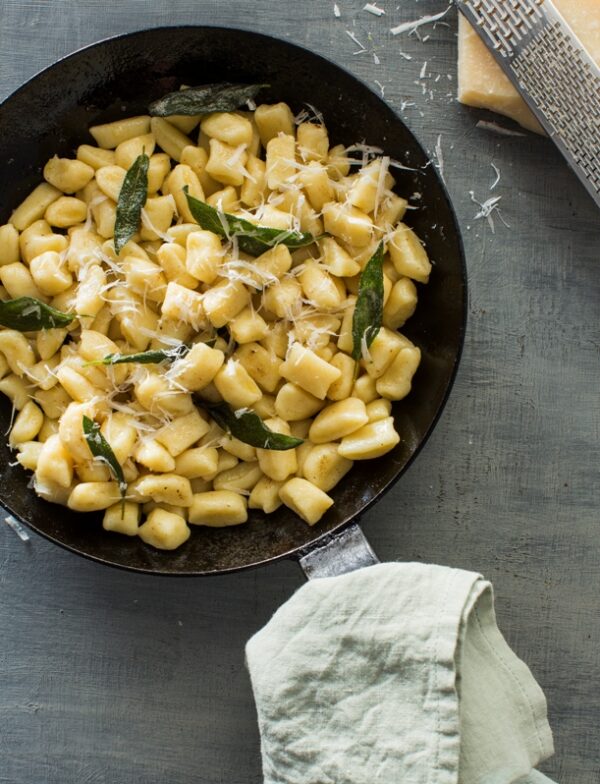 Method
Potato Gnocchi
These pillows of potato heaven are the perfect Italian pasta to make without a pasta machine. Take care to ensure the potatoes are cooked and dry when put through the sieve or ricer, or your gnocchi will be heavy and grainy. Gnocchi freeze well, so you can pull them out for a last-minute meal and finish with sage butter.
Serves 6
1.8kg Agria potatoes, unpeeled
1 free-range egg
2 tsp salt
½ tsp nutmeg
270g "00" flour, plus extra for dusting
4 tbsp butter
16 sage leaves
freshly ground black pepper to taste
shaved Parmigiano-Reggiano to serve
Preheat the oven to 180°C. Wash and thoroughly dry the potatoes, then bake until soft (about 1 hour). Cool slightly, then while still warm, press through a potato ricer or sieve into a bowl, discarding skins. Using 1kg of potato flesh, make a well in the centre and add egg, salt, nutmeg and some of the flour. Mix well and keep adding flour until you feel the dough come together. Add more flour only if the dough feels sticky.
Place a large piece of baking paper on the bench or a large wooden board, dust with flour and lightly flatten dough into a rough square about 1.5cm thick. Cut into strips 1.5cm wide – a plastic dough cutter is good for this because it won't scratch. Keeping your hands dusted with flour, roll the strips into skinny sausage shapes on a not-too-floury part of the board, then move them onto a more floury part until ready to cut. Cut into 1.5cm pieces. Roll these over the tines of a fork to give the traditional ridged shell shape if you wish, but it's not essential. Keep the gnocchi on a floured tray (they can be freeflow frozen at this stage).
To cook, drop the gnocchi into a large saucepan of heavily salted boiling water. Remove with a slotted spoon as soon as they float to the surface.
In a frying pan, heat the butter and sage leaves until the sage turns crisp. Add the gnocchi and coat completely in the sage butter. Top with freshly ground black pepper and shaved Parmigiano and serve.
Reproduced with permission from SIMON GAULT MODERN CLASSICS by Simon Gault. Published by Penguin Group NZ. RRP $60.00. Copyright © text, Simon Gault, 2014.
Copyright © photographs, Kieran Scott, 2014