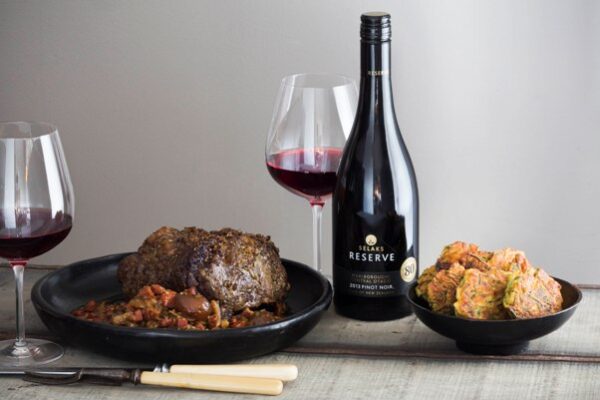 Method
This is a fantastic midweek family dinner and if by some miracle there is any left you will be sure to receive lunch envy from your work colleagues if you include both the cold sauce and sliced beef in a bread roll or sandwich.
Match with Selaks Reserve Marlborough Central Otago Pinot Noir
Serves 4 – 6
 Ingredients
1 – 1.3 kg beef topside
¼ cup olive oil
3 tbsp Simon Gault Home Cuisine Italian seasoning (or your favourite mix of dried herbs)
½ tbsp cracked pepper
1 fennel bulb, cored and thinly sliced
2 tbsp fennel seeds
200g chorizo, finely diced
12 cipolline onions (or pickled onions)
1 cup Selaks Reserve Marlborough Dessert Wine
2 cups Simon Gault Home Cuisine beef stock
2 tsp cornflour
2 tbsp water
2 tbsp fennel fronds, roughly chopped and reserved
Smoked paprika & courgette fritters
400g courgette, grated
1 tsp smoked paprika
½ cup flour
2 eggs, whisked together
300g halloumi cheese, diced in to small cubes
1 tsp salt
½ cup flat leaf parsley, roughly chopped
1 tbsp olive oil
4 tbsp sour cream
1 tsp smoked paprika to dust
Method
Preheat oven 185°C.
Heat the olive oil until shimmering in a deep oven proof casserole pot.
Sauté the meat over a moderate to high heat, turning frequently until brown on all sides. Remove the meat from the casserole pot and season with the Simon Gault Home Cuisine Italian seasoning and black pepper then set aside.
Add the sliced fennel bulb, fennel seeds and chorizo to the casserole pot. Cook over a moderate heat until softened, approximately 10 minutes. Add the cipolline onions, Selaks Reserve Marlborough Dessert Wine and Simon Gault Home Cuisine beef stock. Lay the seasoned meat on top and transfer to the oven without the casserole lid for 40-45 minutes or until 53-55°C. Remove the beef from the casserole to a cutting board and let rest for 20 minutes.
Skim off any excess fat from the cooking liquid. Mix the cornflour and water together then add to the cooking liquid and mix together with a wooden spoon over the heat to thicken the sauce. Taste the sauce and season if necessary and finally stir in the fennel fronds. Slice the beef and serve with chorizo gravy and fritters.
Smoked paprika & courgette fritters
While the beef is cooking prepare your fritters. Top and tail the courgettes then using a coarse grater, grate the courgette and transfer to a bowl with smoked paprika, eggs, halloumi cheese, flour, salt and flat leaf parsley. Combine well.
In a frying pan heat olive oil over a medium to high heat until shimmering, add a heaped tablespoon of the fritter mix in batches and fry until golden on both sides, about 3-4 minutes, adding extra oil with each batch.
Drain on paper towels, then set aside. Reheat whilst the beef is resting. Serve with sour cream and a dusting of smoked paprika.
Enjoy with family and friends and a glass of Selaks Reserve Pinot Noir.
Simon says
Always cook the beef 8-10 degrees less than the desired temperature, as the temperature will rise after it comes out of the oven. So for rare remove at 50-53°C, medium rare remove at 53-55°C, medium remove at 61-63°C, and well-done remove at 67-69°C.