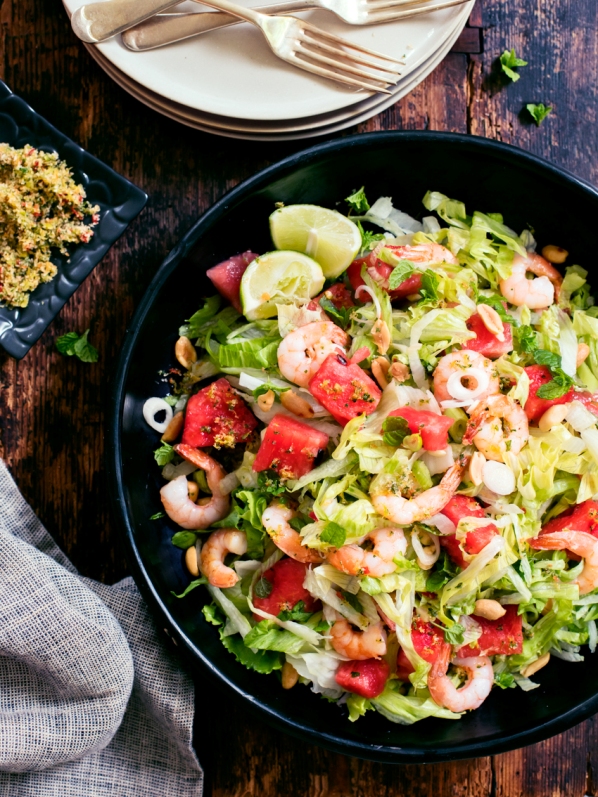 This delicious salad is truly summer in a bowl!
The lime, chilli and mint salt gives a surprising zing which contrasts beautifully with both the prawns and the juicy sweet watermelon
Ingredients
2

limes, finely grated zest and juice

1-2

small red chillies, finely chopped

1

tablespoon sea salt

1/4 cup

finely chopped mint

450g

prawn cutlets

1

ice berg lettuce, shredded

500g

watermelon, seeds removed and chopped into 2.5cm chunks

3

spring onions, finely sliced

1/4 cup

roasted salted peanuts

2 tablespoons oil

small mint leaves for garnish
Method
Place the prawns in a bowl, drizzle over the lime juice and then set aside for a few minutes.
Combine the lime zest, chilli, salt and mint together in the bowl of a food processor, pulse until fine grains (if you don't have a food processor just make sure everything is finely chopped and combine in a small bowl).
Arrange the lettuce, watermelon, spring onions and peanuts together in a large bowl or platter.
Heat a frying pan or barbecue over a high heat, add a film of oil and quickly cook the prawns until they are pink.
Add the cooked prawns to the salad, sprinkle generously with the lime, chili and mint salt and sprinkle with small mint leaves.
Serve at once.