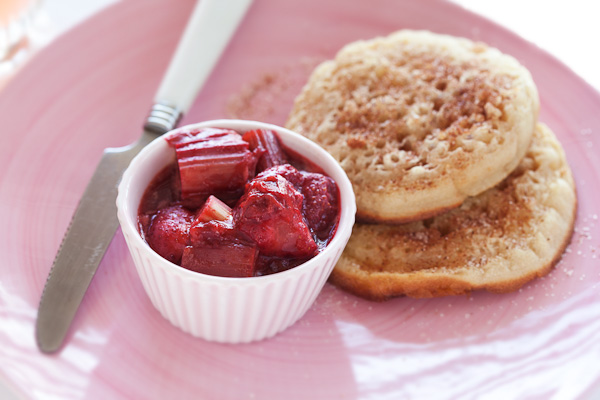 Ingredients
4 stems

rhubarb, chopped into 3 cm chunks

1/4 cup

water

1/4 cup

sugar

juice of one orange

1 cup frozen strawberries

6 Golden Crumpets

butter

2 teaspoons sugar

1 teaspoon ground cinnamon
Method
Place rhubarb in a saucepan with water, sugar and orange juice.  Cover the saucepan and heat over a moderate heat for about 10 minutes or until rhubarb has softened but still holding its shape.  Add strawberries and continue to cook for a further 5 minutes until they are hot and pulpy.
Toast crumpets until the bases are crisp.  Butter the hot crumpets and then dust with combined cinnamon and sugar.
Serve crumpets with compote along side.
Add a dollop of thick yoghurt if you like.