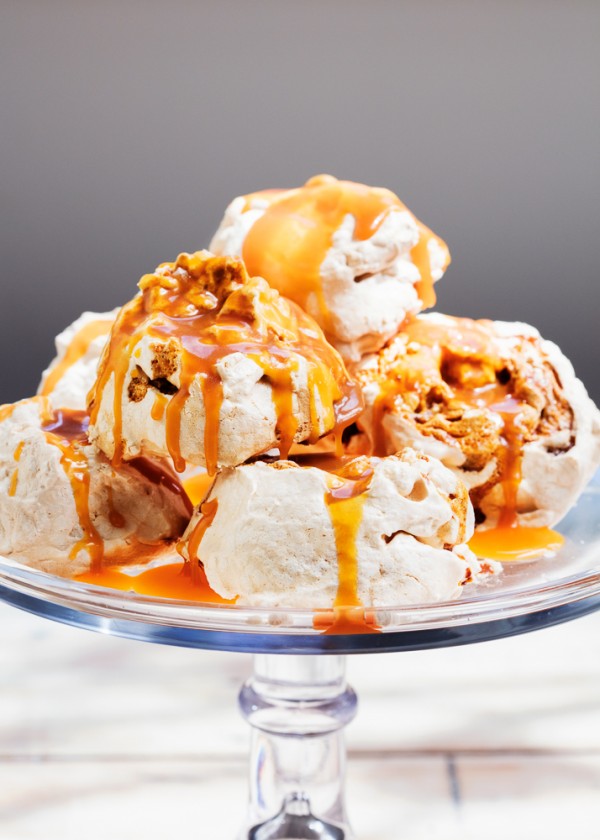 Sticky, chewy and oh so delicious, resist them if you can!
Yield:
Makes approximately 16 meringues
Ingredients
1 cup

sugar

1/4 cup

water

100g

unsalted butter, chopped into approximately 1.5cm chunks

1 cup

cream

1 teaspoon salt flakes

6

egg whites

1 1/2 cups

sugar

1 teaspoon

vinegar
Method
Combine the sugar and water in a saucepan and place over a gentle heat, stirring to dissolve the sugar.  If there are crystals on the sides then brush down with a wet pastry brush.  If you find you need to add a little more water to the pan to help dissolve the sugar then do so,
Once the syrup reaches the boil then stop stirring and allow to bubble until the colour changes from golden to amber (once it goes golden it will then darken quickly so keep an eye on it).  Remove the pan from the heat, carefully add butter and whisk gently until melted before adding the cream and then the salt.  Stir to mix.
Preheat the oven to 100 C. Whisk the egg whites with an electric mixer until soft peaks form.  With the motor running gradually add the sugar a spoonful at a time allowing for it to be well incorporated after each addition.  Beat until thick and glossy and all the sugar has been mixed in.  Ideally about 10 minutes of beating. Lastly mix in the vinegar.
Place large spoonfuls of meringue mixture onto a baking paper lined tray making a small indent in the top of each meringue.  Place a teaspoon of salted caramel into each indent and then swirl with a skewer.
Bake for 1 1/2 – 1 3/4 hours or until the meringues feel firm and hollow when tapped. Turn the heat off and place a wooden spoon to wedge the door open slightly.  Allow to stay in the oven for a further 30 minutes or so.  Place on a wire rack to cool.
Serve meringues stacked and drizzled with extra salted caramel.