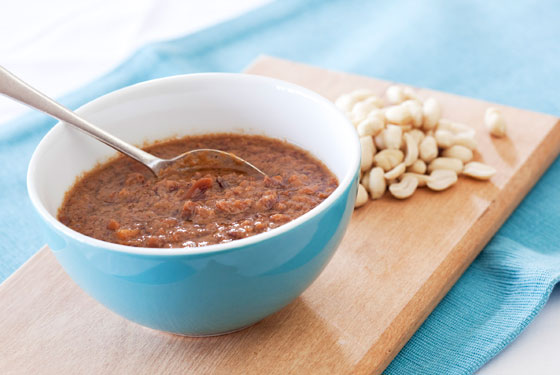 Ingredients
1 tablespoon tamarind block *
2 tablespoons boiling water
1 cup blanched peanuts, dry roasted and ground
peanut oil
2 cloves garlic, chopped
1 small red chilli, seeds removed and finely chopped
1 teaspoon ground cumin
25g palm sugar
400g can coconut milk
1 tablespoon fish sauce
2 teaspoons lime juice
1 tablespoon soy sauce
Method
Place tamarind and boiling water in a bowl.  Leave to sit for 10 minutes and then squeeze the tamarind to release as much liquid as possible.  Discard the solids.
Heat a little oil in a frying pan and fry garlic until just golden, add chilli,  cumin, peanuts and sugar. Stir in tamarind water, coconut milk, fish sauce, lime juice and soy sauce.  Cook, stirring, until sauce boils and thickens.   Serve warm or at room temperature with grilled kebabs or crisp vegetables.
*If block tamarind is unavailable then you can use ready mixed tamarind available in jars from the supermarket.
[homepageimage]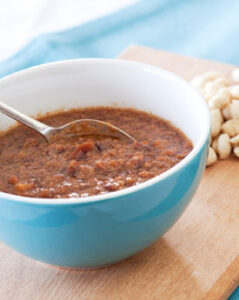 [/homepageimage]
[smallimage]

[/smallimage]