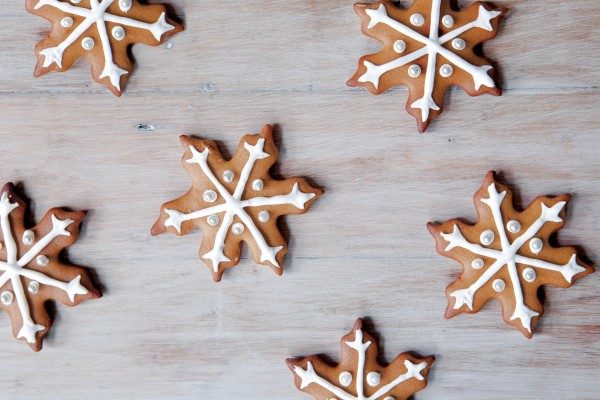 Ingredients
3 tablespoons golden syrup

1/3 cup caster sugar

1 tablespoon water

1 teaspoon mixed spice

1 teaspoon ground cinnamon

1 1/2 teaspoons ground ginger

75g butter

1/2 teaspoon baking soda

1 3/4 - 2 cups plain flour

1 egg white

squeeze of lemon juice

1 1/2 cups icing sugar
Method
Place the syrup, sugar, water and spices into a small saucepan and stir over a gentle heat until the sugar is dissolved.  Bring to the boil and then remove from the heat and stir through butter and baking soda.  Add the flour and mix well, the mixture should be a firm dough.  Wrap the dough in plastic clingfilm and refrigerate until cold.
Preheat the oven to 170 C.
Roll the dough out on a lightly floured surface, cut into snowflake shapes (or other) with a cookie cutter.  Place on a cold tray and bake for 15 minutes until well coloured.  Cool on a wire rack.
Beat together the egg white, lemon juice and icing sugar until glossy and thick.  Add more icing sugar if the mixture is too thin.  Spoon the mixture into a piping bag with a fine nozzle and decorate cooled biscuits.
Once the icing has set store biscuits in an airtight container.
Humidity will soften them.