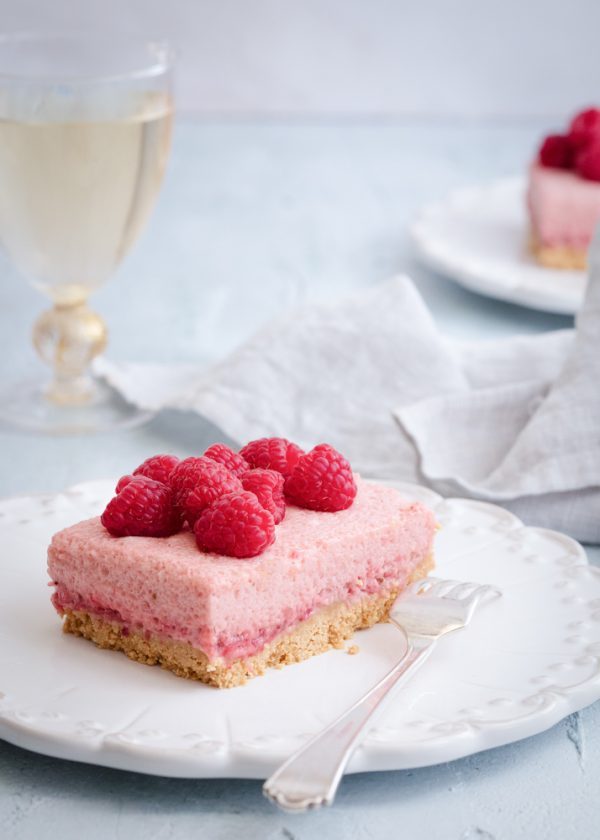 Light, pretty and delicious, this is a favourite dessert with the kids in our house.
It is the perfect dessert for making ahead of time.
Ingredients
250g plain sweet biscuits

100g white chocolate, roughly chopped

100g butter, melted

10g sachet gelatine powder

3 eggs separated

3/4 cup sugar

375g (1 1/2 punnets) strawberries

1 tablespoon lemon juice
Method
Line a 30 x 22cm slice pan with kitchen paper.
Place the biscuits and chocolate into the bowl of a food processor.
Pulse until fine crumbs.
Pour in the butter and pulse to combine.
Press the crumbs into the prepared tin.
Pour 2 tablespoons of cold water into a cup, sprinkle over the gelatine. Sit the cup inside a bowl of boiling hot water (from the electric jug). Set aside until the gelatine is liquid  This will take around 5 minutes.
.Whisk the egg yolks with 1/2 cup sugar in a bowl over a saucepan of simmering water until pale and creamy, this won't take more than about 5 minutes.
In a separate bowl beat the whites until fluffy and then pour in the 1/4 cup sugar while continuing to mix until glossy.
Blend the strawberries and lemon juice in a blender or food processor until smooth.
Combine the strawberries, gelatine and egg yolk mixture and then gently fold in the egg whites.
Spoon the filling over the biscuit base and refrigerate for at least 1 hour.
Serve topped with strawberries or raspberries.