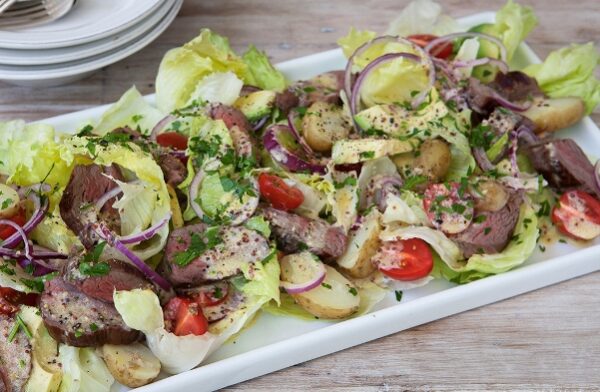 This is an adaptation of Bev's Beef Salad that was given to me on the Home and Garden Show, Radio Live.
The dressing is delicious and it is easy to see why it is such a popular recipe!
You don't have to use fillet steak of course, barbecue your favourite steak and then slice it and toss it through the salad.
Ingredients
Ingredients
1 kg beef fillet

Dressing:

1 tablespoons wholegrain mustard

2 teaspoons prepared horseradish

1 teaspoon brown sugar

1/4 cup olive oil

2 tablespoons white wine vinegar

1/3 cup cream

500g small new potatoes, scrubbed and cooked

1 ice berg lettuce

1 red onion, sliced into rings

1 avocado, sliced

1/4 cup pine nuts, lightly toasted

large handful cherry tomatoes, halved
Method
Preheat the oven to 210 C.
Rub the beef with oil and season with salt and freshly ground black pepper.
Cook for 20 minutes and then allow to rest for 10 minutes before slicing.
While the beef is cooking warm the dressing ingredients together in a small saucepan over a gentle heat. Season generously with salt and freshly ground black pepper.
Tear the lettuce into pieces and arrange on a serving platter with avocado, onion, tomatoes, pine nuts and potatoes.
Slice beef and arrange over salad and then pour over the dressing.