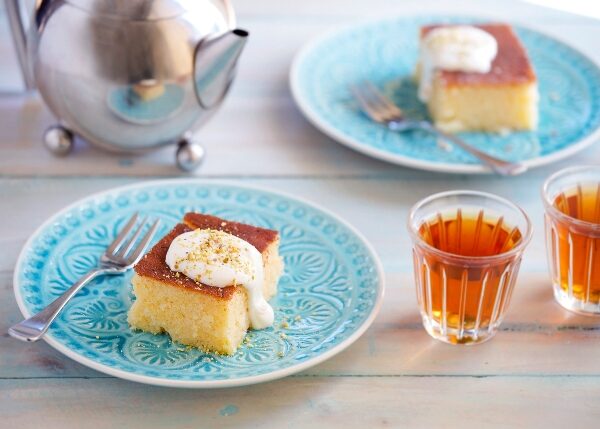 Ingredients
3

eggs

1/2 cup

sugar

1 teaspoon

vanilla extract

3/4 cup

olive oil

1 cup

plain yoghurt

1/4 cup

coconut

1/4 cup

flour

1 cup

semolina

2 teaspoons

baking powder

1 cup sugar

1 cup water

juice of 1 lemon
Method
Preheat the oven to 180 C.
Line a 24cm square baking dish with baking paper.
To make the syrup heat the 1 cup of sugar and 1 cup of water in a small saucepan until boiling, allow to boil for 5 minutes before adding the lemon juice and then remove from the heat and allow to cool.
Beat the eggs and 1/2 cup of sugar in a bowl until pale and creamy.
Add the vanilla, oil and yoghurt and mix well.
Mix in the combined coconut, flour, semolina and baking powder.
Pour the batter into the prepared dish and bake for 30 minutes or so until the top is well coloured and a skewer inserted comes out clear.
Leave the cake to sit for 5 minutes before cutting into 20 squares and then drizzle with the syrup.
Serve sprinkled with chopped nuts or toasted coconut, berries and a dollop of thick yoghurt or cream.