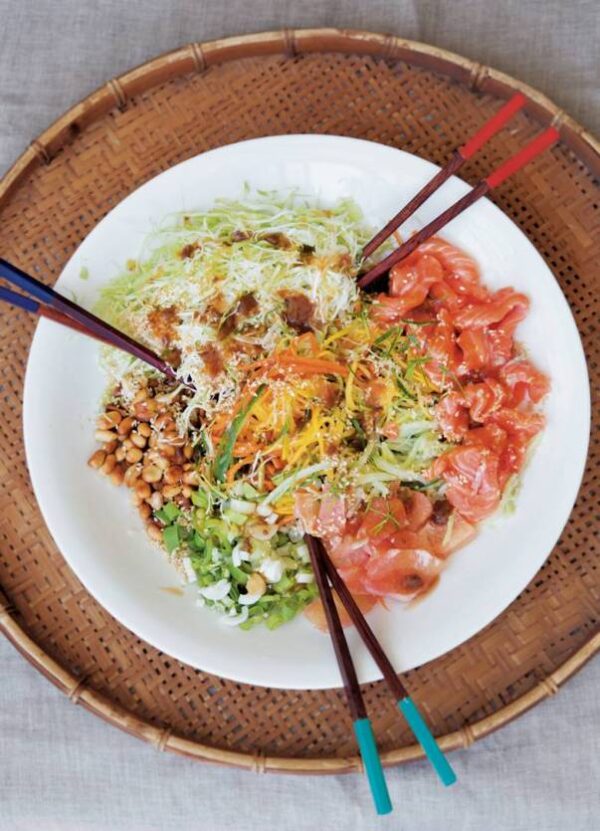 By
Ingredients
600g salmon/tuna/king fish, thinly sliced sashimi style

200g white radish, (daikon) shredded

200g carrot, grated

200g green mango/ green papaya, shredded

4 spring onions, finely sliced

1 red chilli, finely chopped

75g pickled turnip, shredded

200g cucumber peeled, de seeded and shredded

200g pink grapefruit, peeled and separate the sacks

4 kaffir lime leaves, finely shredded

20g young ginger, finely shredded

100g deep fried wanton skins

70g roasted peanuts

Sauce

300g plum sauce

1 tablespoon apricot jam

3 tablespoons lime juice

3 tablespoons honey

1 tablespoon sesame paste

1 teaspoon sesame oil

1/2 tsp salt or to taste

Garnish:

5g (1 teaspoon) Chinese five spice powder, put into a red packet

50g toasted sesame seeds, put into a red packet
Method
Yu sheng is traditionally served on the 7th day of the New Year but it can be served any time over the New Year period.
Thanks to Connie Clarkson for sharing this recipe with us.
Combine the sauce ingredients together in a small saucepan, bring to a low boil and then remove the sauce from the heat and set aside to cool.
Arrange the salad ingredients attractively on a big, round serving platter.
To serve, pour the sauce over the yu sheng and sprinkle with five-spice powder and sesame seeds.
All dinner guests should toss the salad ingredients together for good luck.