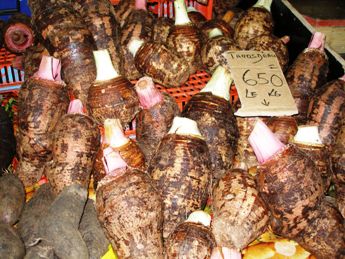 Virgil Evetts
With a baby on the way, and the local weather growing ever more wintery, we decided to take a wee break abroad – but not too far mind – a sort of sun-soaked swansong to our freedom if you will. I'm told this is called a 'babymoon'. Shudder.
Both of us are I suppose reasonably well travelled – it's how we choose to spend our meagre monies; but for one reason or another we've never visited any of the tropical islands of the Pacific. My main reservation about this part of the world has always been the food. I'm just not mad on taro, yams, gallons of coconut milk, fatty pork and corned beef. I swoon for raw fish salads but you can't subsist on these alone. I can hear some of you wailing in protest , but you needn't bother – it's just not my thing, and I'll not be moved. Fiji, with its ample Indian offerings, has always sounded closer to my cup of tea. But according to my reliable (if rather judgemental) sources the place is practically a suburb of Auckland during the winter months, and not a nice suburb either – one of those ones where they perform indecencies upon their vowels.
Oh sure, if I was willing to eschew the local fare and stuck to the resort buffet, any of the islands would do, but that's hardly to point of travel. Buffet food is the same repetitive piles of prawns, platters of cold cuts and strangely soapy cheese the world over. You might as well go to Denny's. Actually I've never been to Denny's but their embarrassing advertising says it all. And what kind of a name is Denny anyway?
 We eventually settled on Noumea, New Caledonia, mostly because it's close to New Zealand and has a well-equipped hospital should baby get up to anything untoward in utero . As it turned out baby behaved impeccably (save for few late-night parties), which is a good thing because we've grown quite fond of him/her, and we discovered rather late in the piece that you can't insure a very pregnant woman for love nor money.
Apart from offering decent healthcare, I thought French Polynesia might be a good alternative to the pure pacifica or buffet fare of other islands. Pacifica food, with a French inflection, right? Well, sort of. Sometimes.
Noumea is the capital city and most populated part of New Caledonia. It's the gateway to the country and a perfectly pleasant place to spend a few days. The local tourism spin doctors like to present the place as a 'slice of France in the South Pacific' and this isn't entirely disingenuous. It's certainly full of French-speaking people (a mixture of Europeans, Kanaks , Polynesians, Vietnamese, Chinese and others), and it has the look of French provincial town too – but more the sort you pass through than stop at. It's not ugly or dirty or dangerous. It just never quite gets going, if you know what I mean.
Most guide books talk about the wonderful 'gourmet' (a criminally overused word) French food available in Noumea. Such food certainly exists there, but in the balmy tropical heat I could not be tempted by heavy, high-French offerings. The concept of fusion cooking has either bypassed local chefs or has been disregarded in favour of dogged traditionalism. Considering Gallic sensibilities surrounding food, the latter is quite likely. Because of this, almost everything in high-end Noumean restaurants is made from imported ingredients and therefore costs the earth. Well-heeled locals seem to dig it though.
But dining after dark in New Caledonia is relatively pricey no matter where you eat. There are however some more affordable options among the non-French cuisines represented. The most widespread of these is Vietnamese, which offers some of the best-value night time fare around, and the excellent local produce and seafood are more than welcome in what is already a tropical cuisine. Vietnamese food is not widely available in New Zealand (most war time refugees settled in Australia), and no holiday in French Polynesia would be complete without a decent survey of its many charms, which include Green Papaya Salad, Phō and Vietnamese spring rolls. But, as I'll explain next week, Vietnamese cuisine is just the tip of the iceberg of what Noumean cuisine has to offer….
To be continued