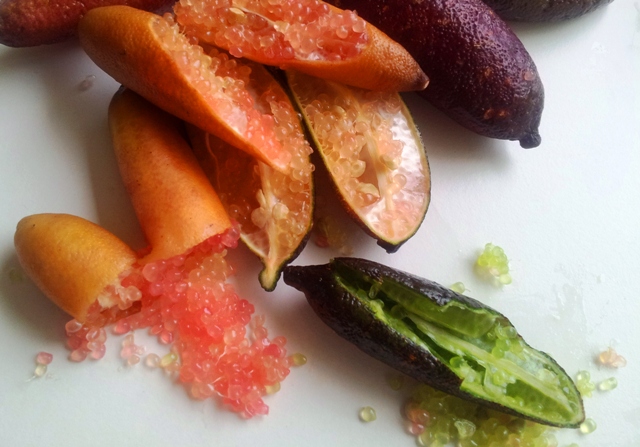 Virgil Evetts
Don't get me wrong, I love living in New Zealand. I love the lifestyle, the climate (well, maybe not always) and I love the quality of our local produce. But a few days in Sydney last week reminded me that, well we're not quite as up with it in this latter regard as we might like to think.
I was over there largely on daddy-duties while my best beloved was checking in with her head office, and as such had a lot of time on my hands with no set plans.  Somewhat flummoxed by the time difference, Olive resumed napping twice a day (which she stopped doing months ago). She prefers to sleep in her buggy when she's with me, so we trawled the city streets and suburbs, via Sydney's enviably fine rail network. I took in Asian supermarkets, regular supermarkets, specialist delis, fruit shops, and of course the unmissable David Jones food hall. Everywhere I went I found things unseen in Auckland. Lovely, delectable things, which with every mouthful I knew I would not taste again until the next trip. Things to delight and frustrate.
So here are five things food I adore, which are available across the ditch but not as of yet, in New Zealand
Finger Limes
These small, pendulous citrus are Australian natives and are not thus far grown (commercially) anywhere else. But stay tuned. Nothing this good can be kept secret for long.  The flesh of these fruit (which comes in a wide range of colours and flavours within the same species) is composed entirely of caviar-like juice capsules, each tightly gravid with sharp, flavoursome juice. Some taste limey, others more like sour blood orange, and still others like grapefruit. Used as a dressing/garnish for salads and with fried foods, the tiny spheres are quite transformative, bringing remarkable texture, flavour piquancy and fragrance.  They are by far the most exciting 'new' food I've tried in a long, long time- even though they've existed in Australia for millions of years. Not only are these not available in New Zealand, they're not even approved for entry. Boo!
Black Corinth Grapes (Currant Grapes)
I've written before about my love of currants, especially in old fashioned baked goods like rock cakes.  And that was even before I'd tried the fresh, sun-ripened grapes they start off as. These tiny, seedless grapes are chin-drippingly juicy and honey-sweet with a gorgeous, musky mellow flavour. Olive and I engulfed great handfuls of them on the train ride home and went back (some 40 minutes away by train) the next day for more.
Although my research suggests currants were grown in New Zealand many decades back, they appear to have entirely vanished. It's relatively straight forward for commercial grape growers to import grafting material, and due to the extreme (and entirely warranted) fashionability of fresh currants overseas, I wouldn't be surprised if we saw them growing here sooner or later.  Not that we have much of table grape industry here – thank YOU very much California and Chile.
David Jones Food Hall
We have some fine food emporiums In New Zealand, make no mistake. But none can touch the grandeur and breadth of David Jones. Clearly modelled on the equivalent department at Harrods (you know, in London), it is only slightly less comprehensive and certainly carries some of the best looking and most exclusive foods you will ever see. Each piece of fruit appears to be hand selected (and probably was), the seafood quite impossibly fresh, and the ranges of meat and cheese nothing short of breathtaking.  As much as anything this place speaks volumes of the wealth and dazzling ethnic diversity of Sydney. As it stands right now, such a place could not exist in New Zealand. There simply aren't enough of us – privileged or otherwise – and our culinary points of reference are too narrow or retrograde.
Honey Gold Mangoes
I thought I had Aussie mangoes sussed. Yes I know, they grow some good ones – Kensington Pride: very nice; ditto the Kietts. Always better than anything from South or Central America  but none to match those of South East Asia.
Then I tasted Honey Gold. This uniquely Australian cultivar was found as a chance seedling in a Queensland orchard about 15 years ago, and has since captured the taste buds of fruit lovers, growers and retailers alike. The fruit arrives off the tree like a natural mango smoothie. It lacks bothersome mango fibre, and presents a perfect balance of sweetness, acid and rich, spicy flavour all bound up in a near-liquid, somehow creamy flesh.
Honey Golds have, I think, spoiled me for all other mangoes. They're widely available in Aus from late November into March, and the first to arrive each year are much fought over, fetching outlandish prices at auction. These are imported into New Zealand but only after they've been irradiated as per the biosecurity entry requirements for Australian mangoes. Irradiation, while a necessary evil, is still an evil none-the less. It alters texture and leaves fruit tasting cooked and somewhat muted. In my humble estimation, all irradiated fruit is a waste of time- and money
Vietnamese Food
Yes, we can get this here too, but nothing like the scale seen in of Sydney. Thanks to a sizeable and long established Vietnamese community, restaurants of all sizes and price ranges can be found all over the city. An indication of this ubiquity is the cuisine's standard inclusion amongst offerings of food halls in all the mainstream malls.
My favourite Vietnamese find was the very original Taste Baguette chain. This is a bit like a Vietnamese version of Subway, but needless to say much better.  Serving little more than (very good) coffee and banh mi thit –  probably Vietnam's most beloved meal on the go and a perfect hybrid of Vietnamese flavours and French colonial influence. Super crunchy baguettes (thanks to addition of some rice flour) are filled with charcoal-grilled meats marinated in lemon grass, chilli, ginger, fish sauce and soy, topped with great fists-full of fresh coriander, spring onion, green papaya and lime juice. The result is extraordinary. Bar-none the best sandwich I've ever eaten and at a mere $7 for a 12-inch job, the best value lunch I found too.
There were other things too:
Korean dried persimmons, soft like fudge and dusty with their own natural sugars; street-side roti vendors to rival the best in Malaysia; tiny, sweet 'paradise pears'; and startlingly cheap Italian cheese…
I'll be back over there again in a month or two, and undoubtedly I'll find more to delight and frustrate.
I suppose there is a bit of a 'grass is always greener' element to my experiences, or maybe just a outing of the green eyed monster, but it is a reminder that while we are lucky to live where do, and very well fed to boot, our tiny population, with its limited means and somewhat narrow tastes does come at a price.
BTW: Olive (18 months now somehow!) wanted you to know that her favourite things in Sydney were the trains and shouting at the fruit-bats in the botanical gardens. She maintains however that these were cats. With wings.