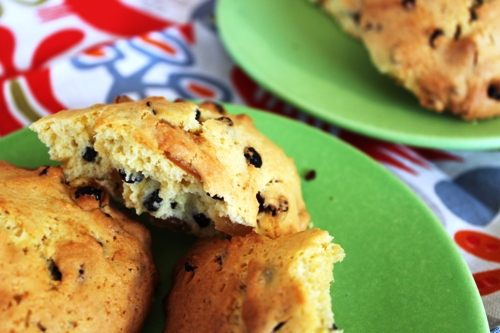 Virgil Evetts
As a small boy I felt oddly powerful eating rock cakes. I fancied them as a man's sort of cake – big, rugged and rocky.  This was a rare, and rather convoluted, expression of masculinity I suppose. Fact is, I've always been a bit of a big-girl's blouse, and not at all predisposed to grand gestures of man-dom.
So I wolfed down rock cakes in what I imagined was a masculine, tough sort of way, never considering that beyond the brutish name there was nothing  very rocky about them. True enough, they can look a little gnarly, but more importantly they're moist, delicately scented, and composed of an almost ethereally light crumb. By the way – did you know that "moist" is among the least-liked words in the English language? Heavy with connotation, apparently.
Rock cakes have become an even rarer species than Sally Lunn and Chelsea Buns – over recent years. They've almost entirely vanished from Auckland, but like so many tasty relics, they continue to hold on in small town bakeries. You know the sort of place, part charm, part cringe, part mock cream.
Based on technique and ingredients, rock cakes appear to be British through and through. No brioche or patisserie bloodlines here. Surprisingly, though there is little mention of them in the food history literature, which might indicate a fairly recent name change. During both World Wars a very pared-down version was promoted by Britain's Ministry of Food as a ration-friendly alternative to sponge, but before that, there is scant evidence of their existence.  It doesn't really matter though. Rock Cakes are unabashedly simple, honest, no-frills tea cakes, and they're terribly, terribly good.
For reasons unfathomable currants -probably the most defining ingredients of rock cakes- are routinely passed over by cooks in favour of raisins and sultanas.  To my admittedly subjective sensibilities, currents are easily the finest of the dried grape clan with their tight, chewy texture and distinctive tart/sweet flavour. Incidentally, the name currant is bastardisation of Corinth, the original Greek home of the tiny seedless grapes.
When choosing currants, the smaller and darker the better. The larger, slightly golden variety lacks genuine currant flavour and texture. My mother recently confessed a lifelong and (to my mind rather peculiar) fondness for current sandwiches. Then again, I like soy sauce and peanut butter on toast, so I probably shouldn't  criticise.
Anyway, down to business….
Rock Cakes
I'm rather proud of these. They taste and smell just like the Rock Cakes of my childhood. True to their legendary tea-cake status, they go superbly well with gallons of strong, hot tea.
Whereas you might only make  Sally Lunn or Chelsea Buns for a slap-up tea party (assuming anybody actually holds these), Rock Cakes can be thrown together with such haste that they just about trump scones. There is no yeast involved, therefore no kneading, proving or waiting around. Whip them up and bash them out, job done.
Ingredients
125 gms softened butter
125 gms sugar
3 free-range eggs (for colour and karma)
260 gms flour
1 ½ tsp Baking Powder
Pinch of salt
2 T best quality Glacé peel– finely chopped
1 generous handful of currants
Zest of 1 lemon (NOT Meyer)
Preheat oven to 190 C
Method
Cream the butter and sugar then beat together with eggs. Combine flour, baking powder, salt and zest. Add wet ingredients and mix to a thick, sticky paste.  Add fruit and mix again until fully blended.
If too wet add a little more flour, if too dry add a little cream- NOT milk or water.
Using two dessert spoons form into rough, hens-egg- sized dollops on a greased or silicone baking tray. The cakes will spread slightly in the oven before rising, so space several centimetres apart.
Bake for about 25 minutes, until the tops are golden and slightly cracked