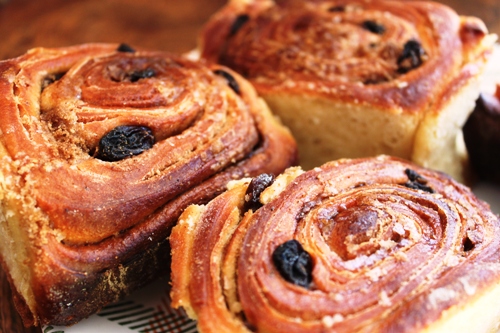 Virgil Evetts
Following on from last week's cake-fuelled dawdle down memory lane…
I do like a Chelsea bun. Soft, sweet, spice- flecked bread studded with sticky raisins and crudely stuccoed with icing. As a small boy with an obscenely sweet tooth, these were the object of my deepest desire. Actually my mother tells me I was more interested in the icing than anything else and given half a chance would toss the scalped bread out the window. So at the very least I loved the idea of Chelsea buns.
Although my teens and early twenties were not exactly dominated with thoughts of baked goods, I was reminded of Chelsea buns on my first trip to London. I was staying off Sloan Square, right in the heart of Chelsea and decided a local bun was in order. I found cannoli, Danish pastries and some very good Pasties de nata (Portuguese custard tarts), but not a single Chelsea bun. Nothing. I was briefly disappointed, but there are so many good things to eat in London, I quickly moved on.
It was only when researching the chequered past of  Ms Sally Lunn, that I started thinking on things Chelsea once again.
The version of the Chelsea bun best known in New Zealand is not too far from the original, just a little rougher around the edges and not so well endowed with saturated fats. Traditional Chelsea buns are made from butter and egg enriched yeast dough spread with even more butter, sugar, spices and fruit before being rolled up, sliced, proven for a spell and baked. They are not unlike a more substantial pan au raisin and have a similar affinity for strong black coffee.
The buns probably came into being as a variant on the cinnamon bun sometime around the early 1700s, in a popular bun shop in Chelsea.  Just as it is today, 18thCentury Chelsea was an upmarket, fashionable neck of the woods. The bun shop in question was a known hang out of the young, hip and regally well bred. Social climbers clamoured to be seen there, partaking of the house speciality with plenty of equally hip and pricey coffee. Soon enough every try-hard baker on every high street had added  Chelsea buns to his or her repertoire.
A funny quirk of antipodean baking I've noticed while researching this series is that almost without fail, we ice all sweet buns, irrespective of need or tradition. That hot cross buns remain au natural  is something of a miracle. Authentic Chelsea buns are never iced. They simply don't need any more fat, sugar or substance. It was however, with some reluctance that I disbanded with icing in my recipe.
Followers of the great Book of Edmonds may recall that the Chelsea bun recipe therein does not employ yeast. It is effectively a kind of pinwheel scone, dressed to look and vaguely taste like a Chelsea bun.   A strange choice for a book that includes plenty of actual yeast bread recipes, but it may simply be a result of the company's prime agenda to promote their baking powder. Fair enough, I suppose.
The following is my mostly authentic Chelsea bun recipe.  It's as close as is practical to the version so beloved of lace-trimmed Sloan-rangers, some 300 years ago.
Chelsea Buns
Ingredients
500gms High Grade Flour
160gms Softened Butter
160gms White sugar
3 tsp yeast
3 eggs (room temperature)
¼ cup cream (room temperature)
½ cup raisins
½ cup currants
3Tbs soft brown sugar
3tsp mixed spice
Method
Mix the yeast with a little warm water and a pinch of sugar. Set aside. Beat half the butter together with the eggs and cream.  Combine the flour, sugar and salt. Add the wet ingredients, mix together and then knead thoroughly until you have slightly sticky and very elastic dough. If too wet, add a little more flour.  Cover and leave in a warm place until doubled.  Punch down and roll out on a floured surface to about the thickness of your little finger. Evenly spread with the remaining butter, brown sugar, spices and fruit.
Preheat oven to 190 C
Carefully roll into a tight sausage and cut into slices about as thick as your thumb.  Arrange, spirals-up in a shallow bread pan. Buns should be touching. Cover and leave to prove for around 25 minutes in a warm place.
Sprinkle with a little extra brown sugar and bake for around 25 minutes, until deep golden and well risen.
Next week: Rock Cakes…