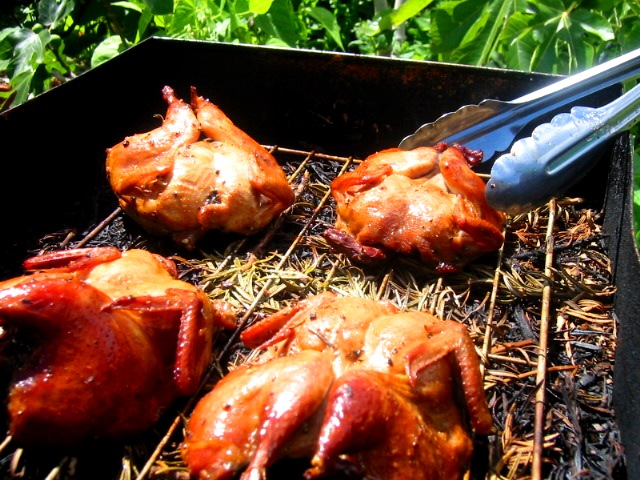 Virgil Evetts
Just like many of you, I've lived my life to date as a good keen carnivore but one quite divorced from the slaughter. I buy my meat from nice clean shops, where it's trimmed to look as little like muscles, organs and limbs as possible. When was the last time you saw anything with a face in a butchers shop window (apart from the butcher presumably)?
Now as I've said many times before, I have no qualms about eating animals. What doesn't sit well with me is that like some weekend dad, I only have to deal with the good stuff.  All those pigs, sheep, cattle and birds that I devour so very enthusiastically don't simply fall down dead in a state of bliss. At the end they're stressed, frightened and rarely die with dignity. Somebody I will never meet kills them. I don't have to look on, feel the weight of all this on my conscience.  I can just hand over my money, go home and eat well.  I don't actually allow myself to be so wilfully blinkered, but if I wanted to I certainly could.  It's just too damn easy to be an amoral consumer these days.
Obviously I could get by without meat- millions do. I just don't want to.  But nor do I wish to go through life without moral accountability for this choice. I believe I am obliged as a recreational carnivore, to bloody mine own hands,  if only on a modest scale. The thought of it makes me feel queasy, even a little teary. But if an animal is going to die for my pleasure- which is what it all boils down to really- I could at least kill it myself. My worst crime as a meat eater may well be my revulsion at the thought of killing.
So I've put a plan in motion. I've purchased a small egg incubator and I'm going to raise some birds for the table. I'll start small, with Japanese quail, a species whose meat I enjoy very much. They're easy to breed and grow to maturity quickly – around 5 weeks from hatchling to slaughter. I'll raise batches of around 20 at a time, slaughter them myself and keep a stockpile in the freezer. They are not big birds, but in my experience one per serving is perfectly adequate. I will afford them the very best care and attention. They will want for nothing and will not endure pain or stress at the end.
And I know what you're thinking though, there's no comparison between killing cattle and tiny birds, and in terms of the actual mechanics, I agree. But ultimately, killing an animal is killing an animal. Besides, I don't think my neighbours would be fully supportive of me raising cows, and you need a gun, or one of those compressed air bolt things, to kill them (the cattle, not my neighbours).You need to know what you're doing too. Not much room for practise when it comes to killing stuff, by my reckoning- you either do it right (very quickly) or you don't do it at all.
But I have room for small birds and I know how to kill them. In my first job, fresh out of school I was required to kill sick and badly injured chickens from time to time. While I hated doing so, I knew it was the right thing to do I quickly acquired the knack of a speedy, humane send-off.
This however is where my skill base peters out. I can physically do the deed, to a sick bird, when it's clearly suffering, but when push comes to shove will I really be able to off a perfectly healthy one?  I think so. I hope so.
Next up, if the quail work out and I can stomach the whole process, the incubator will be put to work on chicken eggs. There are plenty of outfits that will courier fertile eggs to your doorsteps, you know…