It's A Bloody Pleasure!   Virgil Evetts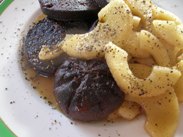 We're fickle, delusional creatures us humans. We like to tell ourselves that we're risk takers, adventurers, masters of all we survey. But you only have to look at how safely most of us eat to know that's just not true.
Ultimately, no mater how articulate we are in the kitchen; our eating habits are led by our upbringing, our preconceptions and sorry, – our ignorance. We deny ourselves so many exciting new flavours and textures, because we don't like how it smells, how it looks or what it's made from. Partly that's our instincts keeping us alive, but its mostly just narrow-mindedness.
Take durian for example, a ferociously spiky, indescribably pungent fruit popular throughout South East Asia. Its understandable that you will probably recoil from durian initially, but if you're awfully brave and just bit grown-up about it, if you force yourself beyond that almost tangible stink, you'll find something so disarmingly complex that unless told otherwise you'd assume it was crafted by a prodigiously talented [and slightly unhinged] chef. That's not to say you will actually like it. But how would you know if you don't at least try?
This is just one example of the many adventures we deny ourselves by skulking in our boring little comfort zones.
Now to be fair, durian is pretty extreme food. I like it, but only in small doses. A more accessible food that is often feared and reviled but is somewhat closer to my heart is black pudding. It's one of the great gastronomical dividers.
A lot of people of a certain age will salivate at the mere mention of it, just about everyone else will be appalled by the very thought of the stuff, despite never having tried it.
I'm a bit of an anomaly myself, as I'm relatively young and adore black pudding. As a child I ate slices of it straight from the fridge the way other kids ate luncheon sausage. Once again though, this is probably not the best initiation for the newbie to a slightly out-there food.
Yes, black pudding really is made from blood. A lot of blood. But is that really so terrible?
We [most of us] happily eat the muscles of animals, their organs, fill their intestines with more of the above and eat that too, make desserts from their hooves and make cheese with their digestive secretions. So what's the difference?
Although slight variations exist all over Europe and parts of Asia, blood sausages, black pudding, budin noir and so on are all essentially the same thing. Animal blood, usually beef or pig is mixed with ground meat of the same and various cereals, seasoned and stuffed into sausage casings.
The raw sausage is then cooked in boiling water, which causes the blood to congeal [not a food-friendly word, I know], thus setting the sausage.
Once cooled, black pudding is usually sliced and sautéed in butter or dripping. So that's provenance and process laid bare but obviously you'll want to know what you're getting yourself into taste-wise too.
Probably not what you expect.
Black pudding has a very mild flavour and it doesn't have any of the metallic quality you might expect from blood. It's certainly meaty, slightly sweet and with a distinctly fudgy texture, which crisps and caramelise quickly in the pan. It's an uncomplicated, rather comforting food. I particularly enjoy thick slices sautéed in butter with apples, a good slug of cider or white wine and something like ciabata to mop up the juices.
In much of Britain, back pudding is eaten at breakfast. I don't really do breakfast myself, so when I have black pudding it tends to be for dinner or a snack.
Black Pudding for beginners
If you're already a fan, you've probably had something like this before. It's nothing new, just a gentle, crowd pleaser really. And if you're a black pudding virgin [so to speak], it won't be nearly as bad as you think. You might even like it, and if you don't, well at least you've tried. Not a bad epitaph actually. At least he tried.
What goes in:
Black pudding
Crisp apple- peeled, cored and sliced
Cider or white wine
Butter
Bread- ciabatta or similar
What you do:
Slice the black pudding thickly. Finger thickness is a good guide.
Melt the butter in a medium sized pan on a medium-high heat. When sizzling, add the apple. Carefully brown, but don't cook. Remove the apples from the pan and set aside Add the black pudding. Brown on both sides. This can a bit tricky to gage because of the colour of the sausage, but you'll get the hang of it.. Remove the black pudding from the pan and set aside with the apples. Pour a good slug of cider or wine into the pan and swirl it around. Reduce slightly, season and briefly return the apples and pudding to the pan. Serve immediately and devour with bread and gusto.