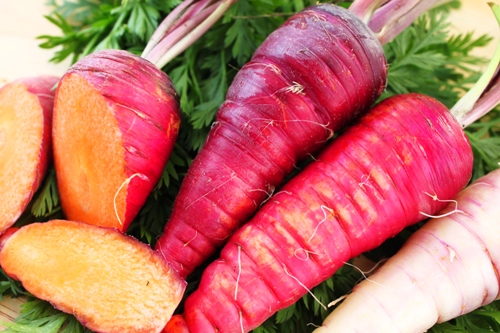 I must admit I've been a little dismissive of carrots in the past. I saw them as stock-pot vegetables first and foremost; essential building blocks in many great dishes to be sure, but not really worthy of closer inspection. That was before I grew some out-back and  learnt  the egregious error of my ways.
The difference I think, when we grow our food rather than simply purchasing it is that we treat it with more respect. We take time to appreciate its various subtleties and look deeply for justification of our toil.  Certainly every carrot I've grown seemed to taste better than anything shop-bought,  but some varieties do seem to be more essentially carroty than others. At the top of my personal listof favourites  is the ancient Afghani heirloom 'Purple Dragon', a mauve skinned, orange fleshed beauty, loaded with sugar and an almost peppery flavour. When these are in the ground I can barely resist scoffing the lot as I weed between the rows.
The flavour and sweetness of carrots is markedly magnified by cooking, so it's worth holding some back some for your favourite carroty dishes. Assuming you actually has some favourite carroty dishes, and you really should, you know.  Heirloom carrots of Purple Dragon's ilk are really too good for stocks and soffritto unless, you've brought in  a truly bumper harvest.
It's a wonder how anyone makes money out of growing carrots. They're always cheap as chips, but I guess it's an economy of scale sort of thing. But because of their alarming affordability, I never bother growing ordinary, supermarket-style carrots at home. They're just not worth your time or the land they tie up.  Better to concentrate varieties that offer something more than bog-standard. There's plenty of choice in this regard, including white, yellow, purple and crimson varieties as well as various round or so called 'French market" carrots.  There is no great art to growing carrots. Always start from seed, and always sow direct into garden beds- they despise being moved. As long as your soil is fairly loose and you keep on top of slugs, snails and the occasional caterpillar, you should end up with a fine crop of very tasty and refreshingly original carrots.
The true challenge is doing right by your crop. Like all home grown vegetables, carrots deserve a bit of fuss and fanfare, to be the star players in your cooking, rather than just some anonymous member of the chorus.
The carrots' natural affinity for orange juice is very well established.  As a child, honey and orange glazed carrot was a firm favourite, still is actually. The flavours just lock together so effortlessly. Similarly carrot soup –already a beautiful winter/spring bridge dish- is further enhanced with a good measure of orange juice and zest, and a little shredded silverbeet (possibly the most useful yet underrated of vegetables) adds extra flavour and substance too.
Carrot fritters have become firm favourites in our household, even though I didn't have high hopes when I first approached them. They're crispy, spicy and probably quite unhealthy. Just my sort of thing, really.
Slow roasted carrots, especially when cooked with a big joint of meat are possibly the highest expression the carrot-cooking arts. Bet you can taste them now, can't you? Sticky, slightly burnt and intensely sweet , liberally drowned in salty, savoury gravy. Yes,  I am a very weak man.
For true sticky bliss, slowly roast a duck on a bed of peeled and roughly chopped carrots. Gradually succumbing to an exquisite lake of fat ,the carrots get the full confit treatment. Sublime beyond any words I can wrangle…
I know I've had a bit to say against carrot cake in the past (mostly that it's been done to death by lazy cafes), but the fact is it can be very, very good. Carrot cake should be moist, dense and assertively carroty. None of this carrot 'as an innocuous filler' carry-on, please. I am an advocate too of very rich cream cheese icing- and a great deal of it. Just because it's carrot cake doesn't mean it needs to be a monastic bore…
Even if you don't get around to growing carrots (but do try), at least try looking at them in a new light. You'll find they have much to offer even the most jaded palate. Take it from one who knows.
Some great carrot recipes, to get you started…
Carrot cake, pumpkin pie and more