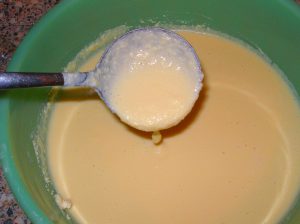 Virgil Evetts
Fromage fort- meaning strong, or possibly fortified cheese- is an exercise in frugality that only the French could have dreamt-up.
Conceived, no doubt as way of using left-over cheese scraps and wine-dregs this ancient Gallic delight is sadly almost unknown to the outside world (it doesn't even have a Wikipedia listing for cryin' out loud).
Best described as a very sophisticated, winey cheese spread or dip, fromage fort is reminiscent of the best fondue but without the corn-flour viscosity and key-party connotations. It can be made from pretty much any cheese (but be warned, the blue cheese versions are  not for the faint hearted) and usually has the slightly tingly, almost peppery bite of active fermentation. I've made fromage fort  on and off for several years now, and as I'm currently working  through a particularly decent batch,  I thought it was probably about time I share.
Because the main ingredients of fromage fort- cheese and wine- are essentially alive, the finished product is never the same twice. And like both of its parents, fromage fort needs time to fully mature.  This is my favourite sort of food- living, breathing, and quite unpredictable. Come to think of it, that's my bottom line for people too.
Fromage fort
Fromage fort can be made in any quantity. I don't use 'cheese scraps', simply because such a thing is unheard of in my house. Instead, I buy whatever tasty cheese (cheddar) is on special and use whatever white wine- usually chardonnay- I have on hand. I've also made it with my homemade apple wine (no, not cider, but that's a story for another time…) with great results.
Grate the cheese and using a ratio of 2 parts cheese to 1 part dry white wine, and with a little butter blend to a smooth paste.  Fromage fort should have the consistency of a very thick soup, so don't hold back on the wine. Pour into a non-metallic bowl and cover with cling film. Store at room temperature and out of direct sunlight for at least 1 week before using. Stir daily.
'Ripe' fromage fort is gutsy stuff, with all the best qualities of cheese and wine brought together in a rich, heady brew. It has a slightly granular texture and may look a little like split or broken mayonnaise- don't despair, this is quite normal.  Generally the alcohol and lactic bacteria (the living part of cheese) content will protect the fromage fort from spoilage for as long as it takes you to finish it off- which if you're anything like me (consumed with greed)- probably won't be long.
Serve with very good fresh bread and prepare yourself for some true cheese lovin'.
So at least for my purposes, fromage fort is a means of transforming very ordinary cheese into something quite extraordinary. But when it comes to really good cheese- the stuff that shines all on its own- what are your favourites?
What is your true cheese love?