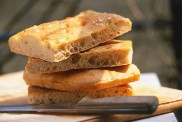 "When the moon hits your eye, like a big pizza pie…..that's amore…."
Lynley Ruck
When Spring has really sprung, I get all Italian on the family. They know to run with this, as it means that the quantity of quality food increases and more often than not it has an Italian theme. I have never been to Italy, nor am I Italian, but on some level it feels very right for me to use the freshest of fresh vegetables in conjunction with olives, tomatoes, seafood and pasta (and wine). I feel very self-righteous when I am standing before a risotto or drizzling quality olive over steaming bowls and I feel quite driven to make do with what bounty each season has to offer. Italian food always celebrates the seasons and I, in turn, celebrate Spring with Italian home style cooking and eating.
The style and spirit of Italian eating shows itself in the varied ways a meal may begin, a communal dipping bowl or collection of hot or cold savoury foods – the antipasto platter, baked vegetables or salads – always fresh and always seasonal.
One of the loveliest aspects of Italian style feasting is the atmosphere created by friends and family who gather to eat together. Great big bowls of steaming pasta lend themselves perfectly to casual communal dining, and after winter's heavier offerings, fresh pasta, lemons and light sauces, herbs and baby greens are anticipated with glee.
An important consideration when cooking Italian at home is the quality of your basic ingredients. At first glance ingredient lists seem simple, a bit of pasta, a few tomatoes, herbs and olive oil. Do not be fooled into thinking that your average everyday supermarket olive oil will suffice. In most places in New Zealand, you can acquire Extra Virgin Olive Oil that has been produced locally at very good prices – this is the olive oil you should be using. Fresh pasta in New Zealand is also often inferior to Italian dried pasta, buy this whenever you see it to ensure a continuous supply.
Zuppa di Cozze is a simple Italian style mussel soup. This recipe works well as a first course, served with slices of toasted bread to mop up the drippings, or as a pasta sauce. Or, you could serve it with a light salad. If one of the mussels fails to open do not eat it! It was already dead when it went into the pot, and eating it could make you very ill.
I really enjoy making my own focaccia bread to enjoy with dips and salsas, soups and alongside any soupy saucy Italian dish. I have discovered a very delicious version of this flatbread that includes potatoes, it is easy and really fun to make with children and adults!
Potatoes are also the main ingredient in a type of gnocchi. Gnocco means "lump" and comes from nocchio, a knot in the wood. These soft little noodles may also be made from semolina, flour or bread crumbs. Use a waxy potato, new potatoes are perfect, and experiment with your own sauces and flavourings. I have suggested a method whereby the gnocchi is poached in a deep roasting dish as opposed to a stock pot, which enables a single layer of Gnocchi to be cooked all at once. Gnocchi drizzled with nutty sage butter is one of the most memorable meals I have made.
One of the loveliest things to do on a warm spring evening is to prepare a simple light pasta dish using everyday ingredients. The word fusilli means "little spindles" in Italian. Fusilli (pasta spirals) with Tuna and Broccoli is a great dish to prepare mid-week when time is of the essence, if feeding children omit the chilli. Elizabeth David extols the virtues of a particular Sardinian "tunny fish" in her book Italian Food, and although I'm sure tuna in Italy in 1954 is quite different to the tinned tuna available in New Zealand in 2008 it is still a lovely dish. For a creamier delicious pasta meal, you can't go past Pasta Primavera – with new asparagus and baby peas this dish celebrates spring like no other in my opinion.
If you want to go to some effort for a dinner party or luncheon dish that incorporates many classical Italian flavours, I implore you to try your hand at Panino, I have been cooking Italian food since I was about 16, and my handwritten oil stained copy of this recipe was given to me by an old friend of my mothers who had lived in Europe. It is basically a hollowed round loaf of bread, crammed full with layer upon layer of roasted vegetables, cheese, oil olives etc. and pressed overnight to create a symphony of taste and colour. Stunning.
To finish on a simple sweet note I am including a recipe for biscotti. I do not spend alot of time in cafés, but when I do – I am drawn to a quick bite to have with a morning coffee. Biscotti or twice baked cookies, will satisfy your sweet tooth without sacrificing lunch plans. If you have many visitors, say during family occasions or during the festive season, biscotti are ideal as they can be made in bulk and stored for longer periods than most sweet biscuits. Many Italian households will have their own special variation and they are now a perennial favourite worldwide.
Of course I haven't even mentioned risotto, wine, pizza or tiramisu……watch this space
Take a look at Pasta Vera for fresh pasta….