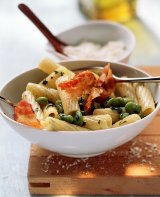 Light 'n' Tasty – Lynly Ruck
As spring is here, my thoughts turn to lightening up the fare at dinner time. I am nearly done with the slow-cooked heavy comfort food of the wet dreary months just past and I want to give my digestive system a rest.
Nothing speaks more to me of spring than the first green shoots, whether it's asparagus, broad beans or the first salad seedlings, pushing their tendrils and above the ground. As it's still a little early for well priced spring vegetables,  I like to make the most of whatever I can find to wean my body off the slow cooked meaty meals, before it must contend with raw salad vegetables again.
Tofu fits nicely into the category of lighter protein, though many people shy off using it – casting tofu aside as bland and tasteless. Yet, that's the whole point! Tofu is the Eliza Doolittle of the culinary world, totally dependant on schooling by dominant sauces and marinades. I freeze the tofu, and squeeze on defrosting, which changes the texture to become even more spongy and receptive to flavour. Lemon Chilli Tofu & Egg Noodles is a quick, easy week-day pick me up that is light on the palate.
Cheese is another good replacement for meat, packed full of protein and with spring grass nourishing our dairy herds, dairy products are never more nutritious. Blessed are the cheese makers, yes, but I think there is a little cheese maker in all of us, and although strict hygiene and stainless steel abound in a modern dairy, you too can make simple cheese at home. One of the easiest to make is Ricotta.
Use Ricotta in lovely fresh pasta dishes such as Spaghetti Carbonara, as a stuffing for rolled peppers or eggplant, on top of lentil salads or as a sweet treat with freshly roasted fruit such as bananas, peaches or rhubarb or with French toast with brown sugar and cinnamon.
Lemon Chilli Tofu & Egg Noodles
½ cup sweet chilli sauce
2 tsp grated lemon zest
¼ cup lemon juice
450gm packet fresh egg noodles
1/3 cup flour
2 tsp Chinese five spice
300g firm tofu, diced 2cm square
2 tbsp oil
1 large onion, chopped
3 cloves garlic, sliced
1 yellow capsicum, sliced thinly
300g sugar snap peas (or frozen peas)
Combine sauce, zest and juice in a small pot, bring to the boil and remove from heat. Place the noodles in a large bowl, cover with boiling water, separate and drain. Combine flour and five spice in bowl, add tofu and toss to coat. Heat 1 tbsp oil in wok, cook tofu in batches until nicely browned. Heat remaining oil in the wok, stir-fry the onion, garlic and capsicum until the onion softens. Add the noodles, peas and half the chilli sauce, stir fry until peas are just tender. Serve noodles topped with tofu and drizzled with remaining lemon chilli sauce.
 
Ricotta Cheese
2 litres fresh whole milk, with a pinch of salt
4 tsp rennet
Scald a large stainless steel pot with a kettle of boiling water – to sterilise it. Add the milk, heating gently until blood temperature (you can use the thermometer you use to take the kids' temps, washed of course!). Remove from the heat, add rennet and stir well. Leave for about 15 minutes, while the milk separates into curds (at the top) and whey (at the bottom).
Use a slotted spoon to skim off the curds, in large pieces if you can, place them into a colander lined with a large doubled-layered muslin or cheesecloth. Tie up the corners of the muslin and hang to drip above a bucket or sink for at least 3 hours, unwrap the cheese place in a bowl, cover and refrigerate. This will stay sweet for about 2-3 days after which it will take on a cheesy tang and will be more suited to savoury cooking. Use within a week.