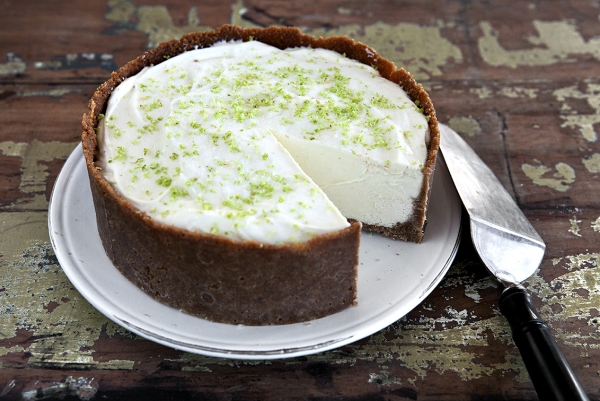 Cheesecakes are loosely divided into two categories baked or set – which one is your favourite?
Having not really thought about cheesecakes since their popularity in the 80s, for the last few weeks my fridge is enough to keep a dairy farmer smiling as I whip my way through baked, frozen and gelatine set cheesecakes in order to discover the perfect blend.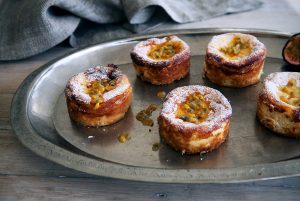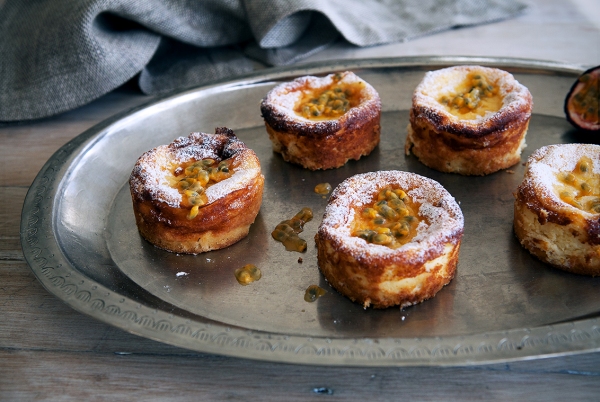 While filling ingredients vary to some degree depending on the style, on the whole their bases are usually crushed sweet biscuits mixed with melted butter.
There are though a couple of variances to this with some cheesecakes having a sweet short pastry base and others  no base at all such as these Italian style Ricotta Cheesecakes.
The New York cheesecake is perhaps the quintessential baked cheesecake consisting of a blend of cream cheese, sugar, eggs and sour cream.  In some recipes the sour cream is mixed in with the rest of the filling and in others such as our recipe on foodlovers the sour cream is mixed with sugar and used as a toppng on the cooked filling and then cooked a few minutes longer.  Why this particular style of unadulterated cheesecake is given to NY remains blurred but it is possibly because cheesecake enjoyed immense popularity in NY city In the early 1900's but also it happened to be a NY dairy farmer who, in 1872, made the first cream cheese which then found its way into cheesecake recipes.
While I am really happy to stand corrected on this one, from what I have read the only thing that makes a NY cheesecake any different from any other baked cheesecake is their insistence that it is a plain cheesecake with no extra ingredients, frills or spills….
Anyone know anything different from that?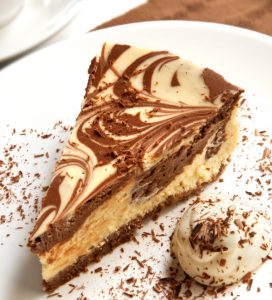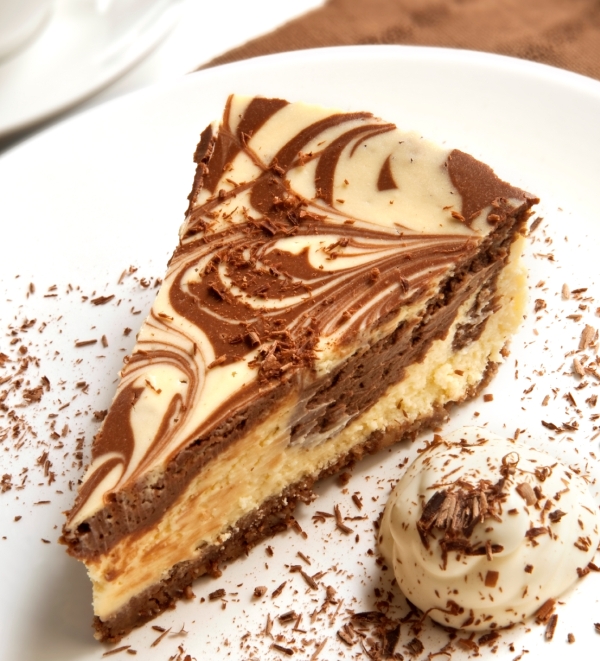 There are pretty much no limits on flavours with baked cheesecakes, this chocolate swirl cheesecake is delicious,  but you can also add berries, mint, liqueurs, caramel etc…
What is your favourite cheesecake flavour?
Baked cheesecakes are set with eggs. Often they are cooked in a water bath to ensure even cooking.  Their density means that baked cheesecakes cook for a time after coming out of the oven.  With that in mind it is best to remove them from the heat when the centre is still wobbly but ensure that you give them plenty of time to cool and set before attempting to slice.
* Cheesecakes that are cooked too hot or for too long are at risk of drying and cracking (overmixing can cause the same problem).
* Also make sure you run a knife around the edge of the tin as the cheesecake starts to cool, this helps the crust stick to the filling and not to the tin.
* For best results start with all ingredients at room temperature, including the cream cheese.
* Ricotta cheesecakes are generally light and fluffy whereas cream cheese adds rich creaminess.
* Mix cheesecakes at a medium speed rather than high speed as too much aeration will cause them to rise and then sink.
* Cheesecakes can be wrapped in foil and then frozen for several months.
* Try making individual cheesecakes in removable base dessert pans.
Set cheesecakes have either leaf or powdered gelatine as their setting agent.   The trick is to use enough gelatine for the cheesecake to set but not so much that it becomes rubbery.
Unbaked cheesecakes are often similar to a baked cheesecake but without the addition of eggs.  They need a decent amount of time chilling and sometimes a burst in the freezer.
Frozen cheesecakes are generally quick to make. A favourite in our house is this lime cheesecake where the ingredients are very similar to simple non churned ice cream but with the addition of cream cheese.
Using a can of sweetened condensed milk, cream and cream cheese plus any other flavour you want to bring in, the filling is simply whipped until smooth and then poured into the prepared base and frozen.
For those that find a cheesecake delicious but overwhelming then you may prefer something like passion fruit cheesecake tart where the ratio of pastry to filling and topping is more modest and not so rich.
A while ago at a restaurant I had a deconstructed cheesecake where the crumbs where in a pile – not just crushed biscuits but baked with some finely chopped nuts and spice.  The cheese cake filling was scooped alongside and then fresh berries as well…. quite delicious.
Are you a cheese cake fan and if so what is your favourite?