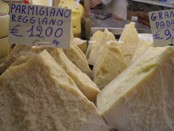 10 things I ate about you
A short guide to the worlds sexiest food – Virgil Evetts
Can food be sexy? I think it can. I don't mean in some in some icky, '9 ½ Weeks' sort of way, nor the very dubious cult of aphrodisiacs, [which suggests that anything vaguely phallic will transform you into a Lothario of Warren Beatty proportions]. What I'm talking about are those foods that, for whatever elusive or overt properties, are just so damn sexy.
Think of the warm gush of sweet, liquefied fat when you crunch through the crackling of roast pork belly. Imagine those tiny explosions of lactic acid crystal as you bite down on a chunk of vintage Parmesan. Now, just try to tell me that's not sexy.
So I've been slowly compiling a list of the most drop-dead hot, oughta-be-R-rated foods I know.
Now obviously, like all lists, this tells you more about the author's predilections than anything else. There's no science to this, I didn't survey the nation. It's just about me and the foods that make me swoon.
You might disagree with me completely; of course if you do, we can't be friends anymore.
 #1 Foie gras de canard/oie
Ok, it's reprehensible I know, what with the funnel-feeding of the birds and all, but this is undeniably hot stuff. Although the term technically just means duck (or even better, goose) liver, the intensive force-feeding transforms the liver into a stunningly rich, silky delight in a league very much of its own. Served ala parfait with toasted brioche and thick apple syrup, this is a treat so perfect that you may find the whole world briefly vanishes behind a wave of flavour and textural bliss. I kid you not; serious, ethics-challenging sexiness. Like having a crush on Hitler I guess.
 #2 Ganache
This miracle marriage of dark chocolate and cream is so often relegated to the centre of truffles [the chocolate kind] or the outside of cakes, but ganache can be so much more. The less cream you add, the thicker it becomes. You can roll it in cocoa, form it in moulds or just lick it from your fingers like a baby with the batter-bowl. To my mind this is just about the truest expression of chocolate; a perfect, sophisticated balance of bitter and sweet with a meltingly silky texture and a clean finish on the palate. This is a little piece of heaven we can all afford.
 #3 King Salmon
The Scots are always banging on about their precious Highland salmon. It's the Queen's favourite fish you know. You know what else? It's not really very good. I suppose if you'd never eaten salmon before you might be fooled, but frankly this fish [A.K.A Atlantic salmon] just doesn't rate next to our very own [well not really, its an introduced species.] King salmon. With its svelte smoothness, unmistakable fragrance and rich, fatty flavour, King salmon is the number one luxury fish of choice for many New Zealanders [although ironically it's now cheaper than fresh snapper]. Sear it, smoke it hot or cold, eat it raw, bake it with cream or do as the Swedes do and rustle-up some gravlax; however you approach it, this fish is one hell of a culinary turn-on.
 #4 Prosciutto cruda & Jamón ibérico
These are some miraculous meats. They really are. Take the leg of a pig, add salt; give it some time and voila! You have a velveteen pleasure worth hundreds of dollars per kilo, with a complexity of flavour and texture that puts the best wines to shame. Of course it's not really that easy. Along the way, the Spanish and Italians work some secret Latin mojo on these hams. A lot of picture-postcard propaganda about the sweet air of Tuscan meadows or diets of acorns is thrown about, but I suspect witchcraft. Nothing this seductive could be natural or Godly, but it's totally worth an eternity of pitch forks in the bott-bott.
 #5 Duck
Dense, flavoursome meat. sweet, copious fat and shatteringly crispy skin. This is the bird that chicken should have been. I've been a fan all my life, and still go out of my way to find the best purveyor of Donald wherever I am. Often it's my own kitchen, as good quality duck is steadily becoming an affordable meat. One of the many delights of Auckland's large Asian population is that BBQ and roast duck is available far and wide. Chinese roast duck, to my mind, is the definitive way of partaking of le canard. Served on rice with just steamed bok-choy it's an exercise in understated class. The food version of the little black dress, if you will.
#6 Tartufo Bianco – White Truffles
These ugly little fungoid lumps are easily the most overtly, indecently sexy items on my [or probably any] list. With a blush-inducing, musky fragrance that hits you like a dose of pheromones and totally subdues any resistance, this is food on-heat. I've only had fresh white truffles twice in my life, on both occasions simply shaved over fresh, buttered pasta. Sounds ho-hum, but remains my most haunting food memory. Truffles of either persuasion [white or black] cost stupid amounts of money, so are seriously special occasion items, but at least once in your life treat yourself. Then get thee to a convent.
#7 Parmigiano Reggiano- Parmesan
Forget the Renaissance; spare me your pyramids. The greatest feat of human kind is quite obviously the creation of this cheese. With nothing more than milk, mould and time, Medieval Italians created this cheese of cheeses. With its gorgeous unfolding bouquet, extravagantly complex flavour and crumbly crystalline texture, Parmigiano is a class act. Despite its fame as a cooking cheese, I like it best au natural -fresh off the block or with wild rocket [ruccula] and a splash of grassy young olive oil. It sure ain't cheap down here in Kiwi-land, but a little goes a very long way. Ok that's a total lie; it's more than possible and totally bliss to wolf down a small fortune's worth in one go.
 #8 Butter
A surprise choice perhaps, but only because we take it for granted. Butter is like the girl next-door. Familiar and homely, but once she moves away you realise you're madly in love with her. We are very fortunate in New Zealand to have 100% grass fed cattle. This makes for vibrantly coloured, richly flavoured butter. Sure its' something of a pariah in health-conscious circles, but really: a little bit of self control people! Used in moderation, like anything on the food axis of evil [animal fats, salt, sugar, etc etc] butter is fabulous stuff. We all know it's many practical roles in the kitchen – frying, baking blah, blah ,blah. But is there anything finer than perfect New Zealand butter, brought up to room temperature and spread thickly on billowy fresh bread?
 #9 Mozzarella di bufala
Like a kiss from bobby-calf, Mozzarella di bufala is the Queen of stretched curd cheeses. Picture a blindingly white sphere, dewy with not-quite-sour, grassy whey and composed of layer upon layer of crepe-fine curd. This is a pure distillation of the very best milk, squeezed from strapping big water buffalos in Southern Italy. Sadly, the Italian mozzarella industry is in pretty poor health at present due to an ongoing dioxin scare in Southern Italian pastures. This appears to be a result of Mafia control of the waste management industry and Governmental corruption. Fortunately farmers in both Australia and New Zealand are building up commercial herds of water buffalos. Its early days though and prices are through the roof.
If you do get your hands on some 'di bufalo [carcinogenic or otherwise] there is no other way to eat it than roughly torn with explosively ripe plum tomatoes, fresh basil and a careless splash of oleo.
#10 Pork belly
The most underrated part of the pig, but in my oh-so-humble opinion it offers some of the best eating of any meat. It's spectacularly fatty stuff, but that's kind of the point. You've heard it before: fat carries flavour [which is in rich, porky abundance here], keeps the meat moist, and helps to crisp the crackling. I can't think about this stuff with out salivating; it's everything pork should be – sweet, rich, succulent and moist. When treated kindly it turns out the best crackling you will ever experience. I say experience because taste alone just doesn't cover it.
While the Chinese are the true masters of handling this cut, it's pretty forgiving stuff if you follow a few simple rules. Prick the skin like crazy, pour boiling water over it, salt it and roast it gently on rack over a water bath. Enough to turn a Rabbi.
Well there you have it; 10 foods that float my boat. Do you have a list?