Having a well stocked fridge and pantry along with some fresh garden produce, means that summer meals can be put together with ease.
Even if unexpected guests turn up, with a few key ingredients on hand there is always a meal.
Along with the usual fridge items of olives, cheese, chutneys and salami, I always have a packet of smoked chicken breast on hand.  It has a good shelf life, comes in a convenient 300g pack and is perfect for sandwiches, pizzas and pastas and of course salads.
Aside from adding valuable protein, smoked chicken also gives great texture and flavour to salads. By combining smoked chicken with vegetables, herbs, nuts and a tasty dressing, you really have an entire meal in a bowl.
Smoked Chicken Slaw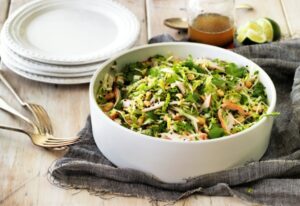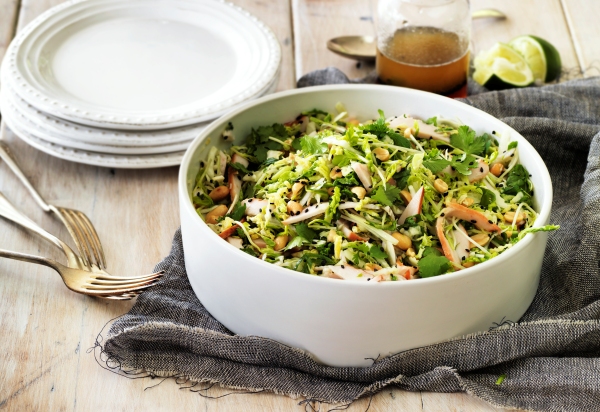 Slaw is a perennial favourite and this would have to be one of the best. With a variety of crunchy and crisp textures and a refreshing lime and sesame dressing, it really is a feast of the senses.
The flavours of Mexico are hot this summer and it is easy to see why.
Avocado, coriander, deliciously sweet fresh corn, lime and rocket combined with tasty morsels of smoked chicken make this salad a meal on its own, although some grilled tortillas alongside would make it even better.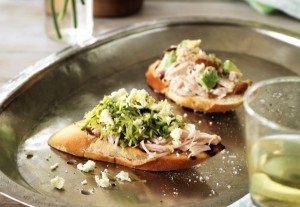 Whether its a barbecue, drinks or a meal of shared plates, bruschetta is always popular.It is easy to stick to the familiar but more interesting to vary toppings and these two are bound to be your new favourites.  Pan fried grated courgette with a splash of lemon and olive oil is a perfect match for smoked chicken as is avocado with creamy mayo and toasted almonds.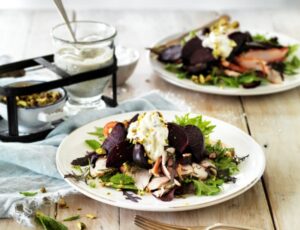 Middle Eastern Smoked Chicken and Beetroot Salad
Beetroot not only looks and tastes terrific but it is also one of life's superfoods. Oven roasted and gently combined with yoghurt, mint, pistachios, salad leaves and Tegel smoked chicken it is good for body and soul.