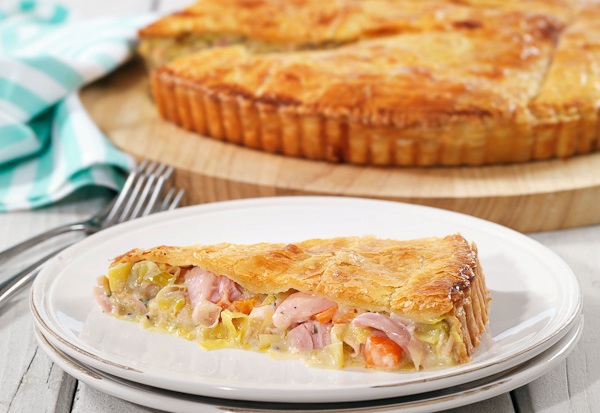 With both the adults in our house working and constantly hungry active kids, I am always trying to work clever tricks to ensure that there is enough of the "right food" in the house for lunch boxes, substantial after school snacks and also dinner supplies without having to make a daily trip to the supermarket.
As well as all the regular basics – cheese, milk, pasta etc… our fridge now pretty much always contains at least one pack of smoked chicken.   As a recent convert to smoked chicken it is amazing how quickly it has morphed into our weekly repertoire. Vacuum packed breasts or whole chickens have a great refrigerated shelf life so the base to a meal is always there ready and waiting.  While a breast weighs around 300g, there is a substantial quantity of meat in each pack and you really can just keep slicing and slicing.
Smoked chicken is highly versatile in that it is cooked and ready to slice as cold meat or can be incorporated into a recipe such as our delicious "feed a crowd smoked chicken pie" and give a lovely robust smoky chicken flavour.  With its versatility and shelf life it is ideal for taking away to the bach or boat as long as there a space in the refrigerator.
Mindful of the kids physical activities, it is an ongoing priority to get good protein into their diet and piling smoked chicken into wraps, sandwiches and on top of pizza bases will do exactly that.
On top of pizzas, tossed through pasta, in soups, salads, stews, pies and tarts, smoked chicken adds great flavour, a good lean source of protein and is also value for money.
When thinking wraps and toppings, smoked chicken goes particularly well with:
avocado
aioli
spinach
lettuce
cranberry sauce
brie
caramelised onion
alfalfa sprouts
rock melon
pear
asparagus
pesto
We also have some brand new and hugely flavoursome smoked chicken recipes to share.
Just right for this time of year.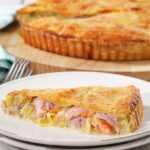 Smoked chicken and leek pie is the ultimate in comfort food, it feeds a crowd so is best if the kids or friends are around, you can also heat left overs up the next day.
---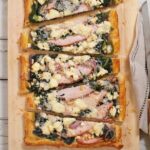 Smoked chicken galette is one of my favourites, blending smoked chicken with the fabulous combination of spinach, feta and pine nuts.
---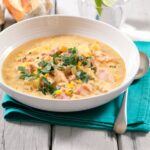 Smoked chicken and corn chowder is soul warming and extremely hearty, ideal for a weekend lunch or dinner with warmed rustic bread.
---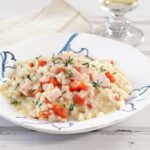 A creamy risotto is a perennial favourite and with smoked chicken and grilled capsicum it really is delicious.
---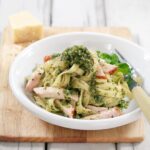 Quick and easy fettuccine with
rocket pesto and smoked chicken can be made in minutes and has a lovely punchy flavour – particularly if using wild rocket.
See our seriously good smoked chicken salad recipes for summer.