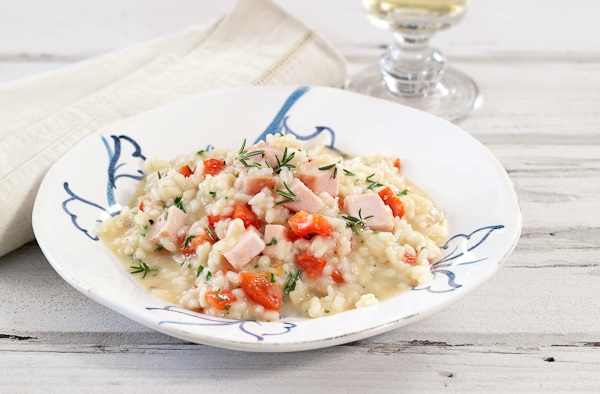 By
Ingredients
2

red peppers

5

cups chicken stock

1/2 cup (125ml)

dry white wine

1 tablespoon

butter

1 tablespoon

olive oil

1

red onion, finely chopped

2 cups

Arborio rice

1

smoked chicken breast, chopped into bite sized pieces

1/2 cup (50g)

grated Parmesan cheese

2 tablespoons

chopped fresh herbs (parsley, thyme, rosemary)
Method
1. Grill the red peppers until blackened all over, allow to cool slightly and then rub off the skin, remove seeds and membrane and finely chop.
2. Place the stock and wine in a saucepan and bring to the boil and then immediately reduce to a gently simmer. Heat the butter and oil in a saucepan and gently cook the onion. Add the rice and stir to coat the grains for a minute or so.
3. Add a ladle of chicken stock and stir until stock is absorbed. Add another ladle and continue to cook in this way until all stock is absorbed and the rice is tender – approximately 20 minutes.
4. Stir the pepper, chicken, parmesan and herbs through the risotto and cook a further minute or two. Season to taste with salt and freshly ground black pepper.