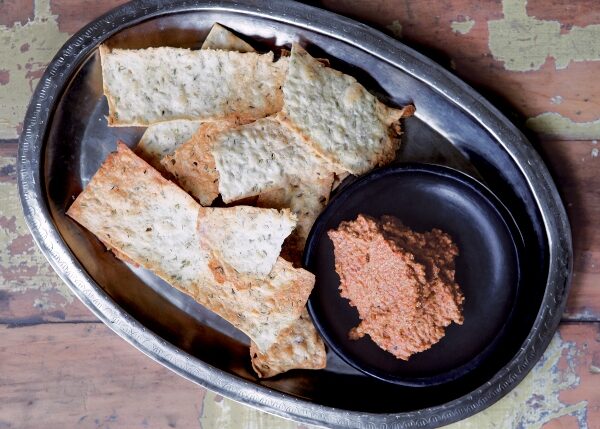 Ingredients
2

red capsicum

sprinkle of dried chilli flakes

1

clove garlic, roughly chopped

1/2 cup

walnut pieces, lightly toasted

1

slice ciabatta bread, toasted (about 1.5cm thick)

1/2 teaspoon

ground cumin

1/2 teaspoon

sea salt

pinch

sugar

2 tablespoons

extra virgin olive oil

1 teaspoon lemon juice

2 teaspoons pomegranate molasses
Method
Char-grill peppers until the skins have blistered and blackened.  This can be done on a gas hob, on a barbecue or under a grill.
Leave peppers to cool and then rub skin off with paper towels, halve and remove seeds and membrane.
Place the peppers into the bowl of a food processor with the chilli flakes, garlic and walnuts.  Roughly tear the toasted bread into chunks and add to the bowl along with the cumin, sea salt and sugar.  Pulse until the mixture is a thick paste.  Add olive oil and pulse again, adding a little more if the mixture seems too thick still.
Add pomegranate molasses and lemon juice, taste and adjust flavours to suit.
Serve with lavosh crackers, vegetable sticks, chunks of bread or alongside roasted lamb.