Unbaked Slices – Tammy McLeod 
Unbaked slices are one of the easiest things to make but can look the fanciest depending on how you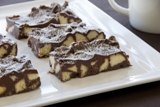 present them. They can be made anywhere, anytime and with the most rudimentary of cooking equipment – all you need is a bowl, a spoon and something to set your slice in. They are also a great way to get kids baking as there are usually not too many tricky components.
One of the most popular unbaked slice is chocolate fudge cake. My Mum's recipe is fail proof and is simply butter, condensed milk and cocoa powder melted together, with crushed plain biscuits (eg wine biscuits) stirred through. For an everyday slice you can ice it with a simple chocolate icing made with cocoa, icing sugar and water. But to dress it up you can add dried fruit and /or chocolate chunks to the mixture and ice with real chocolate melted with a little oil.
Fudge cake is also very versatile. Try citrus slice by leaving out the cocoa and adding some lemon or orange juice and zest and topping with matching icing, or make a fruit slice by adding dried apricots and coconut for a difference. Adding some chopped walnuts and strong espresso makes a wonderful coffee slice. For a touch of decadence, try covering your slice with cream cheese icing and topping with toasted flaked almonds or chopped walnuts. This is great served as dessert with lightly whipped cream or yoghurt.
Lolly cake in its log shape is another perennial un-cooked favourite. Try something different along the log theme, by using shortbread broken into large chunks combined with good quality dark chocolate and use dutched cocoa when mixing the condensed milk and butter together. Use a loaf tin to mould your log and when firm, cut into thick slices, dip half in melted chocolate and you have an elegant nibble to have with coffee.
Cafés often have huge wedges of slice, but at home I prefer narrow fingers. Using a ruler is a good way to get uniform pieces. For a platter of sweet nibbles I like to cut slices into bite size squares and alternate rows of different slices or other sweet treats. You can even roll your slice mixture into small balls and roll in coconut or chocolate hail, or chill until firm and dip in melted chocolate.
Coconut and Apricot Fudge Squares
Ginger Fudge Slice
Chocolate Rock Slice