Our no-bake slices are easily made and they are super popular.  Think lolly cake, hedgehog slice, citrus slice and more.
This Snickers Slice was passed on to me by a Swedish friend.  Of course it is simple to make and the flavour is really good – if you like peanut butter and chocolate that is.
I can't go past Allsorts Slice, it is just so perfectly pretty and the chopped licorice allsorts are great for texture and flavour.
Lolly Cake is always popular, it can be rolled into a log such as this one or pressed into a slice pan.  Super sweet and tasty it is not just the kids who like it!
There is nothing economical about this Chocolate Slice but it does pack a punch in terms of flavour and texture.  You only need small pieces and it is lovely as an after dinner treat with coffee.
Rocky Road is one of my all time favourite slices, I think its the contrast of the soft sweet marshmallows with crunchy nuts, crisp biscuits and creamy chocolate that all bind together to give texture and lots of flavour.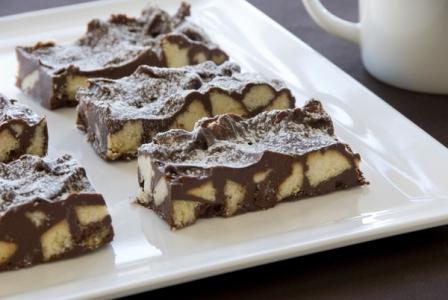 Chocolate Rock is a sophisticated version of Hedgehog Slice.  It uses shortbread as opposed to regular sweet biscuits and the golden syrup and melted chocolate make for a deliciously decadent slice.
Unbaked Citrus Slice is a change from the many chocolate recipes about.
Use orange or lemons or a combination of both.
Our vegan unbaked Chocolate Peanut Slice ticks most boxes in terms of being super delicious.  We keep it in the fridge in a plastic container and I have been known to justify more than just a small piece with my afternoon cup of tea.
Known by so many names, our Broken Biscuit Chocolate Slice is one of those slices that the kids make repeatedly.  Despite what ever else I make they seem to default back to this one.
What are some of your favourite unbaked slices?