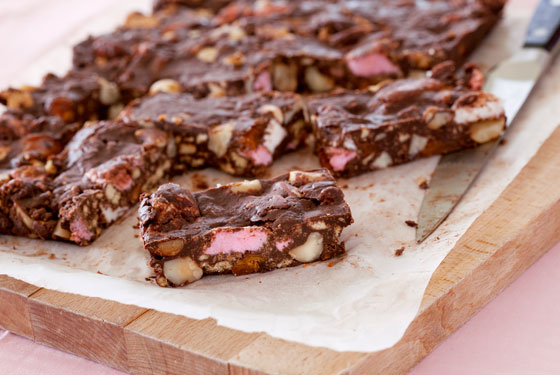 1/2 cup (70g)  brazil nuts
1/2 cup (approx 70g) macadamia or hazelnuts
1/2 packet (125g) sweet biscuits
1 cup chopped pink and white marshmallows
1/4 cup roughly chopped dried apricots
2 teaspoons finely grated orange rind
250 g dark chocolate
25 g butter
200 g (1/2 can)  sweetened condensed milk
Preheat oven to 180 C and toast nuts for 10 minutes. Cool and chop roughly.
Place bicsuits in the bowl of a food processor and process until roughly chopped.
Combine the nuts, biscuits, marshmallows, apricots, and orange rind in a bowl.
Gently melt the chocolate with the butter in a bowl over a pan of simmering water or in the microwave on a low heat.
Sitr in the condensed milk and then mix with the biscuit mixture.
Press into a 18cm x 30cm lined slice pan.  Refrigerate until set and then cut into bars.
[