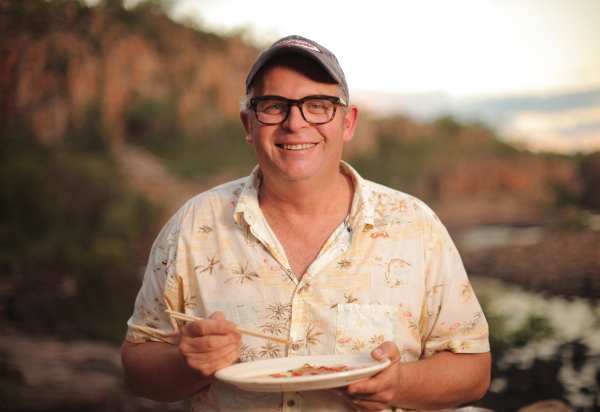 Kiwi chef, fisherman and local character Al Brown is set to sizzle up our screens with a new prime time television series starting Saturday 8th June at 8pm on TV One.
Imagination Television, makers of some of New Zealand's leading entertainment television including Masterchef New Zealand and New Zealand's Got Talent have produced the ten part series in partnership with Tourism Australia. Over ten weeks, viewers will be taken on an epic culinary journey around Australia in search of people, places and of course the bestAussie produce Al can find to cook the best way he knows how – fresh!
Tourism Australia General Manager New Zealand, Jenny Aitken says, "The opportunity to share the flavours of regional Australia through the distinctive style of Al Brown will surely whet the appetite of Kiwis to explore a little further beyond their Australian gateway." Peer advocacy is a leading way of sharing the stories of Australia with like-minded people and is a strong strategy of Tourism Australia's globally. The series received strong support from Destination New South Wales, Tourism & Events Queensland, Tourism Northern Territory, Tourism Western Australia, Tourism South Australia Tourism Commission, Tourism Victoria and Tourism Tasmania along with Virgin Australia and Air New Zealand as partner airlines.
Al begins his Aussie walkabout in the South Australian capital of Adelaide where he goes in search of the best street food in what's fast becoming a "City of Foodtrucks". An hours drive away Al discovers the beauty of the Barossa Valley as he samples two of hisall-time favourites, cheese and a "banging Barossa Red".
The road trip continues through the stunning vineyards of McLaren Vale and on to Kangaroo Island, Australia's third biggest island, just a 45 minute ferry ride from the mainland. It's here that Al catches and cooks yabby straight from a muddy river, and hooks his first ever squid.
When Al heads to Tasmania he doesn't find a devil, only his chef idol Tetsuya Wakuda, who sends him in search of an artisan knife maker that sparks a whole new love affair. The natural beauty of the region leaves Al speechless at times, even more so when he heads on his first sea plane to nearby Bruny Island to sample smoked wallaby, catch some crays and cook up a veritable feast of all the island has to offer.
When Al gets to the Northern Territory, he heads straight for the water in Darwin to try his luck atreeling in one of the Barramundi the region is renowned for. Time and tide were not on his side, but luckily, local fishmonger, Mr. Barra was more obliging. From Darwin, Al travels into the heart of the territory and presents a renowned indigenous chef with the holy grail of indigenous cooking, a crocodile tail which theycook up together.
In Queensland Al discovers pineapples don't grow on trees when he meets a farmer in the Sunshine Coast hinterland, and goes in search of a musician turned cheese maker who's making "some of the best haloumi in the land" from the basement of his suburban home.
When Al heads further North for his second trip to the sunshine region, he gets to indulge in two of his personal addictions, cocoa and coffee. A quick stop at the iconic Rusty's markets in Cairns, and a couple of coffee shots later, Al heads for the hills to Atherton Tablelands and a visit to the oldest coffeeplantation in Australia. After a tough day in the tropics Al mixes up a Queensland cocktail and a creamy desert in a magical billabong setting on the Mossman River at Silky Oaks Lodge amidst the Daintree, the world's oldest rainforest.
When Al gets to his "favourite Australian City", Melbourne doesn't disappoint. A quick stop by of some of the city's best eateries, he then hits the road for the gorgeous Grampians, a three-hour drive away, and one of the most beautiful indigenous rock sites in Victoria. It's here Al discovers a chef's garden delight; a "candy store of fresh produce."

On his return to Melbourne, Al explores the ever-evolving food scene, where heboards a tram and checks out some of the city's hottest new precincts. He then flies into the upper reaches of Victoria into Mildura, a town of rich Italian heritage. Along the way he encounters fig-eating sheep who perform the important function of pruning low lying branches and clearing figs from the ground.
Al also comes across a sumptuous aubergine patch and then enjoys dinner at the local goat farm.
In New South Wales , Al is in foodie heaven as he eats his weight in Oysters for breakfast, lunch and dinner, before travelling to the South Coast and enjoying an on-water 'master class' with Oyster farmer Steve Feletti. He goes Abalone diving and makes them into his trademark sliders with 'slaw, and falls in love with a little loved Australian black fish.
In the final episode, Al travels to the farthest reaches of Western Australia in search of some unique quirks of nature. Al also connects with Australia's rich and ancientindigenous culture, trying his hand at crafting a spear over a campfire andrevels in the success of mud crabbing – in some very deep and dark mud! Gathering his bounty along the way, Al does not leave without taking in some of the region's 'out of the box' sights. This includes a horizontal waterfall and the vast wilderness that makes this region one of Australia'smost impressive natural experiences.