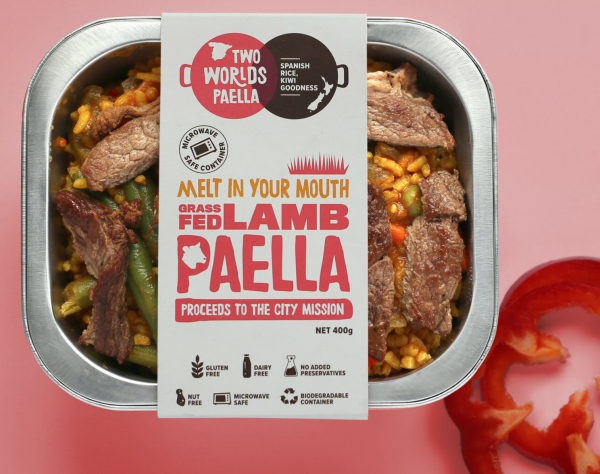 Paella is an aromatic Spanish dish of rice, saffron and vegetables, often with a 'hero' ingredient like seafood, beef or chicken. It's traditionally cooked and served in a large shallow pan, known as a Paella. Nourishing, vibrant and without pretension, paella has held a place of honour in Spanish homes for centuries and is one of Spain's most famous cultural exports, enjoyed by foodies all around the world.
All profits made from the sale of Two Worlds Paella helps The Wellington City Mission support more people and families in need across the region. We can guarantee, giving has never tasted so good.
Each Paella meal is being produced and manufactured locally at a kitchen in Petone, Wellington and there are five Paella favours: Chicken, Beef, Vegetarian, Lamb and Seafood. The product's packaging is biodegradable.
We've called ours Two Worlds Paella, because it brings together a delicious, traditional old-world recipe and our wonderful new world, premium fresh produce.
The first Paella were cooked at the beginning of September 2019 and sold from New World Chaffers (City) on Wakefield Street Wellington. They're now available at selected supermarkets and service stations throughout New Zealand.
Background: The Wellington City Mission, 19 Gordon Place, Newtown Wellington provides transitional housing, rest-home and hospital level residential care. They welcome you into their community lounge where you can enjoy the company and community of others. The Wellington City Mission provides food parcels, budget advice, and financial mentoring, one to one support and advocacy. They will walk alongside you, advocate on your behalf and support you to achieve empowerment, transformation and a fuller, richer life. 23,657 meals were served throughout the Mission (Annual review 2018-2019)
All the profits from the sales nationwide of Two World's Paella go to fund this wide range of services. The Two World's Paella range of 'Ready Meals' is available nationwide from participating New World Pak N Save and Four-Square supermarkets & participating gas stations nationwide. Available as a single-serve 400g ready meal, just heat in the microwave. For the best outcome, we recommend heating the Paella in a fry pan on medium heat with a little olive oil for around fifteen minutes, RRP $7.49. For more information please visit www.twoworldspaella.com