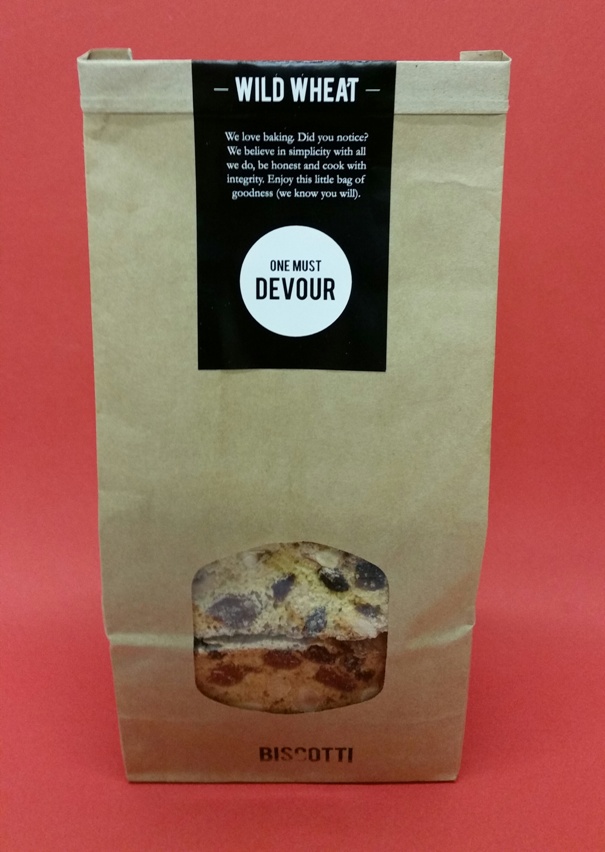 Baker Andrew Fearnside is an Auckland baker with a reputation for making artisan breads of rare quality, including his famous Sourdough. Wild Wheat Bakery was started in 1999 and since then Andrew has created a passionate following among top chefs and foodies who will drive long distances for his bread and other handmade products. Wild Wheat Bakery is an NZ Food Award winner and has been voted 'Best Bread' by Metro Magazine every year since 2004.
The Wild Wheat Biscotti are bigger, thicker and much more substantial than your standard run-of-the-mill biscotti. They are substantial & delicious; each pack weighs 400g almost half a kilo. Ingredients include sliced almonds, prunes, hazelnuts, dried apricots, citrus zest and raisins, distributed generously through each biscotti; making them both wonderfully crunchy and pleasantly chewy due to the abundant rich moist fruit; making a nourishing and memorable combination.
Each biscotti is double baked and has a crisp crunch with each bite taken. Because they're much more substantial than your average biscotti they cost a little more, but as we all know you get what you pay for, plus more. The large bag is easy to open and re-sealable to help maintain freshness.
Wild Wheat Biscotti make a generous gift to take for a dinner party or the perfect after dinner treat to serve with tea or coffee. Enjoy anytime with family & friends with morning or afternoon tea. In Italy they are traditionally served with a small glass of Vin Santo, a fine Italian dessert wine.
Stamped on the pack baker Andrew Fearnside writes 'One must devour' he's correct, once opened it takes courage & discipline to not go back for more!
Wild Wheat Biscotti, large 400g pack RRP $15; for stockists visit www.wildwheat.co.nz