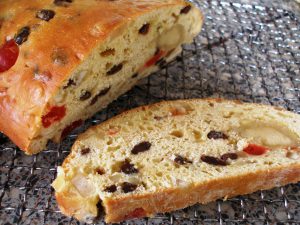 Now don't get me wrong, I love Christmas, I really do – but in terms of writing with any sort of originality it's somewhat…limiting.
The widely accepted rule about Christmas cooking – and writing it would seem – is 'don't mess with the classics'. Sure you might offer up an exciting new glaze for the ham or a daring new nut in the turkey stuffing, but beyond that actual innovation and experimentation just aren't too welcome with the Christmas crowd. While it's forgivable to muck up the odd favour-reciprocating dinner party through an overestimation of one's culinary prowess, doing so with Christmas dinner will be talked about behind your back until you die – no matter how polite the family might be at the time.
So most festive food writing and recipes tend towards the usual suspects chosen by annual lottery methinks, with a few (yawn) 'new twists'. In terms of the furtherment of the gastronomic arts, it's perhaps a bit depressing, but I suppose traditions only work if you do them pretty much the same way every time. Anyway, without tradition, why bother with Christmas at all? God knows what else it's about if not predictable food and disappointing presents (ok that last one isn't true in my case – I was and always am spoiled like a piglet. Did I ever mention my best beloved proofs all my work?)
But what is weird is how quickly the food media banish Christmas as if it never happened at all. You're bombarded with weeks of 'ways with ham and turkey' with wall-to-wall holly leaf garnishes, but as soon as Boxing Day rolls by its 'Christmas? What Christmas?'.
So just before I drive Christmas out into the woods and make it dig its own grave at gun point (figuratively, more or less), I thought I'd offer up a brief eulogy, if you will, to the highlights of my Christmas 2009. When I'm done it'll be you turn to share, so be prepared.
Every year I spend the festive season munching my way through a lovingly and extravagantly homemade stollen or panetonne. This year it was the former – stuffed with fudgy and fragrant German marzipan and studded with glace peel, cherries, brandy-soaked raisins and toasted almonds. It was all the better too for being made with a sour-dough starter which I bred from the yeast bloom on my plums (try as I might I just can't find a way to say that which doesn't sound revolting and wrong). Not only did the volatile, almost vinegary yeast gloop bring a new complexity to the flavour and texture of the bread, it also appeared to at least contribute to a considerably extended shelf life. I'm mad on my sourdough right now – look out for a dedicated article in the near future…
Normally I leave the mince pies duties to my mother, as she is the master craftswoman in that regard (excluding the time she gave an unsuspecting marine biologist third degree burns to his tongue – long story). But this year, as she was tied up making great slabs of ginger bread and short bread for various aged, infirmed, needy types, I volunteered to do the deed. Now this will no doubt annoy a few of you, but I'm of the opinion that for any reason other than economy, making pastry from scratch is for suckers. Yes it's an art and a skill. Whatever. Why bother with all that temperamental toil when you can find excellent ready-made stuff in the supermarket freezer? That's what I used for my mince pies, it worked beautifully and that's that. I would have preferred however, to make my own fruit mince (and will next year), but just didn't get to it in time. So I turned again to that cardinal evil of the modern kitchen – readymade. Actually it's perfectly passable stuff, after a fashion, and certainly a good base for your embellishments. I added a hefty glug of brandy, a couple of grated apples, plenty of ground nutmeg and clove, the juice of a lemon and a very generous cup of suet. As always, it was the suet that saved the day. It's the king of fats and I'm its most loyal subject. Sneaky stuff though suet, having no taste or texture of its own, yet able to fuse otherwise disparate flavours and impart the most silken, rounded texture. Anyway, my rather lazy mince pies were so very good – especially when thickly smeared with dangerously volatile brandy butter – that I just couldn't bring myself to share them very far at all. I begrudgingly sent a few off with the neighbours, a few to the parents, but the rest remained a very private pleasure.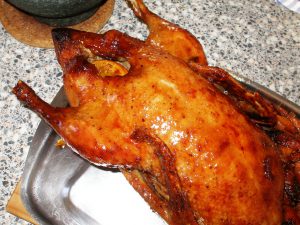 We have established something of a Christmas Eve tradition in our house of dining on the quick-and-easy, not to mention very fine, Roast Seville Orange-glazed Duck with Port Wine Sauce, featured on Delia Online the official web presence of the usually rather sensibly shod Delia Smith. (Poor Delia, she was recently described by Antonio Carluccio as "the most boring person in the world".) The sticky rich bird (the duck that is) almost cooks itself, and goes down a treat with a pile of carrots cooked slowly in the fatty pan, and a drift of watercress on the side.
My main contribution to the family Christmas lunch (picnic on the beach – very nice, very hot) was a colossal free-range ham from Freedom Farms. Dense, flavoursome meat and luscious thick fat slathered in a russet glaze of apricot jam, mustard and 5 spices. Few pleasures in life compare to those sticky chefs perk-morsels of glazed ham fat, torn hot from the oven.
I received a small but perfectly formed selection of food-centric gifts from my nearest and dearest this year. The most conspicuously hefty parcel under my tree concealed Thai Street Food – David Thompson's glorious new book. This is an exceptionally beautiful publication, loaded with recipes and fascinating insight from Thompson and exquisite photography by Earl Carter. An essential – if rather pricey – addition to any Asian food lover's library. From family in the UK I received a subscription to Waitrose Food Illustrated. Although ostensibly just the in-house magazine of the Waitrose supermarket chain, this is to my mind one of the finest food periodicals around today, with a veritable who's who of UK food personalities contributing, and gorgeous design work throughout. I couldn't be happier with this one!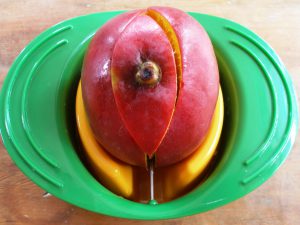 On the gadget front I finally got one of those very dinky pineapple slicers – I should have picked one up years ago. This very simple, but devastatingly effective, little device cores, skins and slices whole pineapples in a few effortless turns of the handle, taking all the work out of preparing one of my favourite fruits. As if that wasn't exciting enough I also received a mango corer (available from the excellent Jessica's Design store in Napier), which makes quick and tidy work of that notoriously fiddly but sublimely lovely fruit. Now I'm usually pretty scathing of gratuitous kitchen clutter, but these two deserve a place in any fruit lover's arsenal.
There were others gifts too – some edible, some not. There was the most welcome company of my sister and her children (who have been away from us for too many years), of my parents (divorced for decades but still the closest of friends), of my perfect and ravishing best beloved, and of my funny and thoughtful baby brother in law. There were halcyon skies and a blazing sun, cicadas rattled, and the summery perfume of the sea filled the air. Overwrought cliché perhaps, but a fine Christmas indeed.
Tell us about Christmas in your neck of the woods…