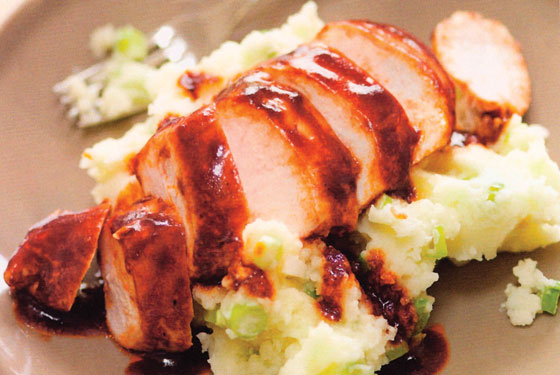 Serves 4
Prep 10 minutes
Cook 20 minutes
Ingredients
2 tbsp olive oil
4 skinless chicken breasts
4 tbsp balsamic vinegar
2 ½ tsp Billingtons Golden Granulated sugar
1 tbsp tomato puree
Freshly ground black pepper
750g potatoes, peeled and chopped
25g butter
2 tbsp natural yogurt
6 spring onions, sliced
Method
1 Heat oil in a large frying pan, then brown the chicken breasts for 2 mins on each side. Remove from the pan and keep warm.
2 Add the balsamic vinegar, sugar and tomato puree to the pan, then bring to a simmer for 15 mins, turning chicken occasionally.
3 Put the chicken breasts back in the pan, and then simmer for 15 mins, turning the chicken occasionally.
4 Meanwhile cook the potatoes in a pan of boiling water until tender, then mash with butter, yogurt and spring onion.
5 Serve the chicken in slices on a bed of mash, drizzled with the balsamic sauce.