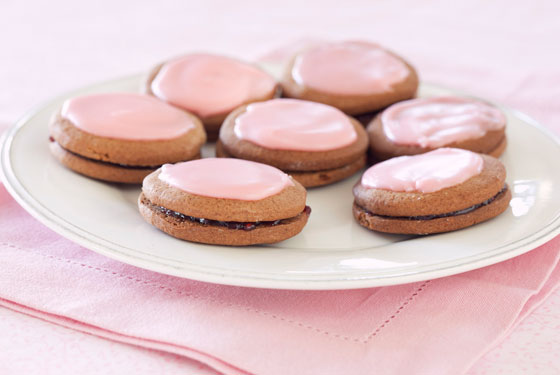 Ingredients
125g

butter, softened

1/2 cup

sugar

1 tablespoon

golden syrup

1

egg

1 1/2 cups

flour

3/4 cup

cornflour

2 teaspoons

cocoa

1 teaspoon

ground cinnamon

1 teaspoon

mixed spice

1 teaspoon

baking powder

1 cup

icing sugar

2 teaspoons

butter, melted

hot water

drop of red food colouring

1/4 cup

raspberry jam
Method
Preheat oven to 180 C.    Beat butter and sugar until pale and creamy, mix in golden syrup and then egg.
Add combined sifted dry ingredients and mix to a dough.  Turn out onto a lightly floured surface and roll until approx 3mm thick.
Using a cookie cutter cut into circles and place on a greased or lined baking tray.  Bake for 15 minutes until biscuits are golden and firm.
Cool on a wire rack.
Mix icing sugar with butter and enough hot water to make a spreadable icing.  Dip a skewer into red food colouring and then into the icing mixture and mix until a pale pink colour.
Ice half of the biscuits and spread the remainder with raspberry jam.  Sandwich together with icing on top.