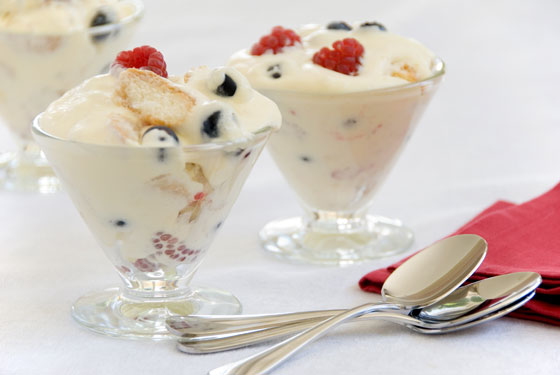 Serves 8
Ingredients
3/4 cup pure fruit juice
3 eggs, separated
1/4 cup caster sugar plus 1 teaspoon
2 tablespoons cointreau or brandy
250 g mascarpone
1 cup cream
24 sponge finger biscuits
1 punnet bluberries
1 punnet raspberries
1 cup chopped strawberries
Method
Beat the egg yolks, 1/4 cup sugar and cointreau in a bowl with an electric mixer for 3 minutes. Add the mascarpone and continue to mix until smooth. Beat the cream until softly whipped and fold into the egg mixture. Whisk the egg whites with 1 teaspoon of sugar until soft peaks and gently mix into the egg yolks.
Arrange half of the sponge finger biscuits over the base of a 2 litre bowl, pour over half of the juice and spoon in half of the egg mixture. On top of this place half of the berries. Cover with biscuits, juice, cream and then the remainder of the berries.
Refrigerate for at least 2 hours prior to serving.