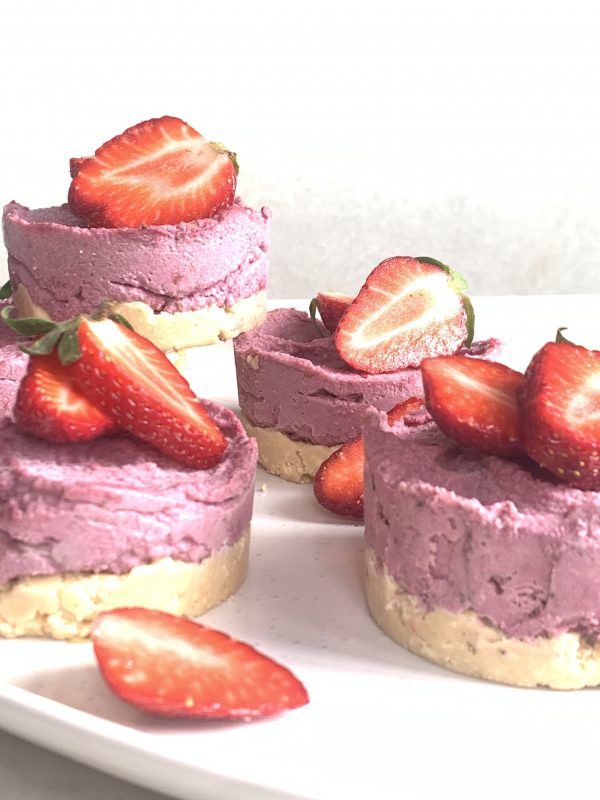 Ingredients
1 ½ cups

natural cashew nuts

1 ½ cups

Kea Cookies vanilla cookie crumbs

3 tablespoons

coconut oil, melted

1 cup

fresh or frozen berries (raspberries/strawberries and/or blueberries)

1 tablespoon

lemon juice

2-3 tablespoons

maple syrup

4 tablespoons

coconut oil, melted

extra berries for garnish
Method
Place the cashew nuts in a bowl and cover with boiling water, set aside for at least 2 hours but longer if you have time.
Mix the cookie crumbs with the 3 tablespoons melted coconut oil and divide the mixture between 10 silicone muffin cups (or well oiled regular muffin tins with a disc of baking paper in the base).  Press firmly get an even layer.  Refrigerate until needed.
Combine the cashews, berries, lemon juice, maple syrup and coconut oil together in blender.  Blitz until smooth.
Spoon the berry mixture over the base and smooth to get an even layer.
Freeze until set.
Serve garnished with fresh berries.