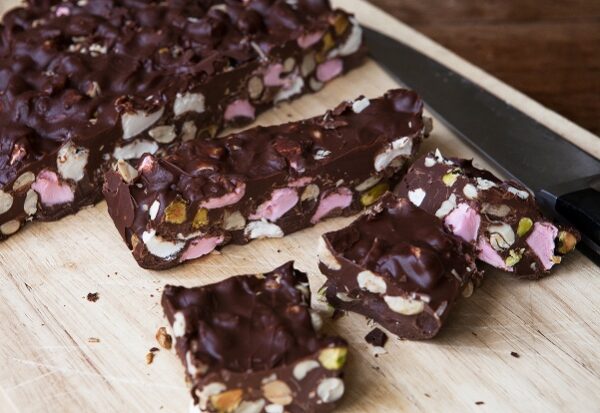 Yield:
Makes about 30 pieces
Ingredients
1kg

chocolate (I use a mixture of milk and dark)

100g

pink and white marshmallows

1 cup

blanched peanuts

1/2 cup

pistachio nuts

1/2 cup

brazil nuts, roughly chopped

3/4 cup

thread coconut
Method
Preheat the oven to 180 C.
Break the chocolate into small pieces and place in a bowl over a saucepan of barely simmering water. Let the chocolate slowly melt, giving it an occasional gentle stir. Turn the heat off as the chocolate starts to melt to ensure that it doesn't get too hot.
At the same time place the nuts in a baking dish and roast for around 8 minutes or until golden, add the coconut to the dish and toast a further minute or two until the coconut is lightly coloured.
Roughly chop the marshmallow, scissors are good for this job.
Line a 20 x 30 cm slice tin with baking paper, Pour over a thin layer of chocolate and then a layer of nuts, coconut and marshmallows. Cover with more chocolate and then remaining nuts, marshmallows and lastly chocolate.
Refrigerate to set and then chop into pieces.