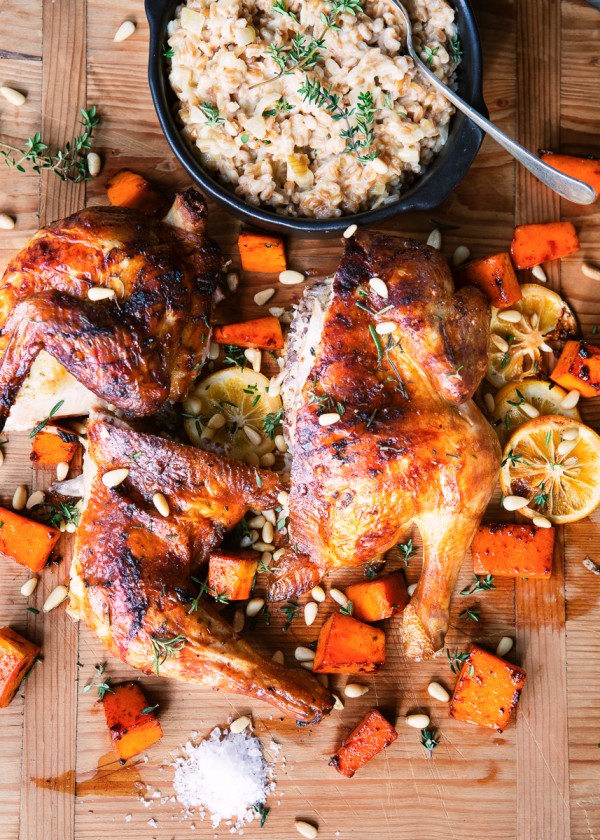 Ingredients
1

Butterflied Chicken (size 16/1.6kg0

1/2

lemon,sliced

450g pumpkin, chopped into 2.5cm chunks

2 teaspoons thyme leaves

2 tablespoons

butter

1

onion, finely chopped

2

cloves garlic, finely chopped

1 cup

farro

4 cups (1 litre)

chicken stock

1/2 cup

grated parmesan cheese

rosemary needles and thyme leaves to garnish
Method
Preheat the oven to 200 C.
Place the chicken skin side up in an oiled roasting dish.
Scatter with slices of lemon, thyme leaves and season with salt and freshly ground black pepper.
Roast the chicken for 40 minutes until thigh juices run clear when pierced with a skewer, add the pumpkin and thyme to the pan for the last 20 minutes of cooking and the pine nuts for the last 5 minutes.
While the chicken is cooking make the risotto by gently melting the butter in a large saucepan and cooking the onion and garlic until the onion is tender. Add the farro to the pan, increase the heat to medium and stir for a couple of minutes until the grains are coated in butter.
Add stock a ladle at a time, stirring after each addition and allowing the liquid to be absorbed before adding any more.  This process should take about 20 minutes and by this stage the farro will still have texture but not crunch.  Stir through the grated Parmesan cheese and season with salt and freshly ground black pepper.
Chop the chicken into portions and scatter with thyme and rosemary leaves.
Serve with a crisp green salad.