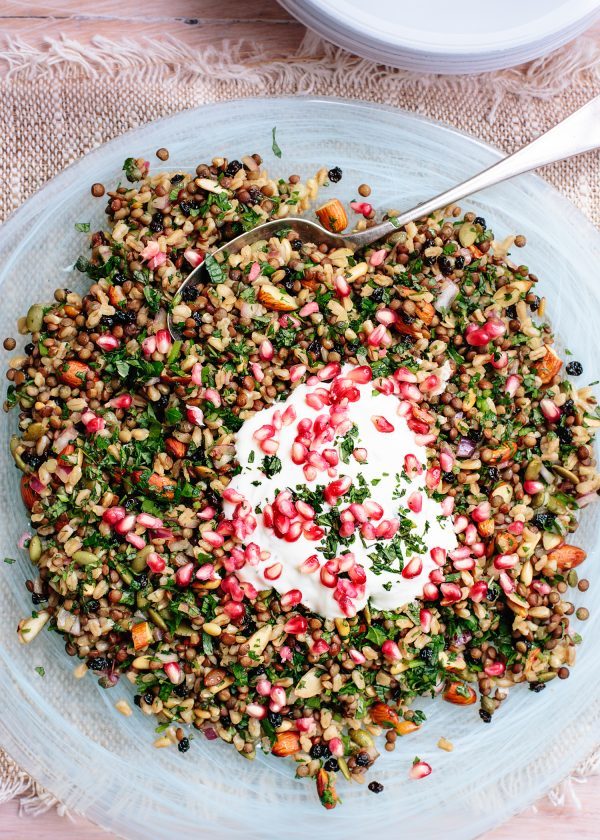 A friend of mine in Melbourne emailed me about this most delicious salad from Hellenic Republic.  A little time spent on the www discovered a few variations on this combination and while this one is close to some, they all have a few tweaks to suit the individual writer.
This has great texture and flavour and encapsulates everything I love in a salad.
Plus it looks gorgeous!
Thanks to the Hellenic Republic team for the inspiration.
Ingredients
3/4 cup

puy lentils

3/4 cup

farro

1 large

stalk celery, finely sliced

1

small red onion, finely chopped

1/3 cup

finely chopped parsley

1/4 cup

finely chopped coriander

1/4 cup

finely chopped mint

1/4 cup

pumpkin seeds, lightly toasted

1/2 cup

almonds, lightly toasted and roughly chopped

2 tablespoons

pinenuts, toasted

2 tablespoons

capers

1/3 cup

currants

2 tablespoons

lemon juice

1/4 cup

extra virgin olive oil

1 tablespoon

pomegranate molasses

sea salt

3/4 cup

Greek style yoghurt

1 teaspoon

ground cumin

1 pomegranate
Method
Cook the puy lentils and farro in separate saucepans of boiling water for 15-20 minutes until just tender to the bite but not soft.  Drain well and allow to cool.
Combine the lentils and farro with the onion, herbs, seeds, nuts, capers and currants together in a large bowl.  Tossing well to combine.
Mix together the lemon juice, olive oil and pomegranate molasses, season generously with sea salt.  Pour the dressing over the salad and toss again.
Combine the yoghurt and cumin and add a pinch of salt.
Remove the seeds from the pomegranate.
Top the salad with a mound of cumin yoghurt and sprinkle with pomegranate seeds.
Excess salad can be stored for several days in a sealed container in the refrigerator.