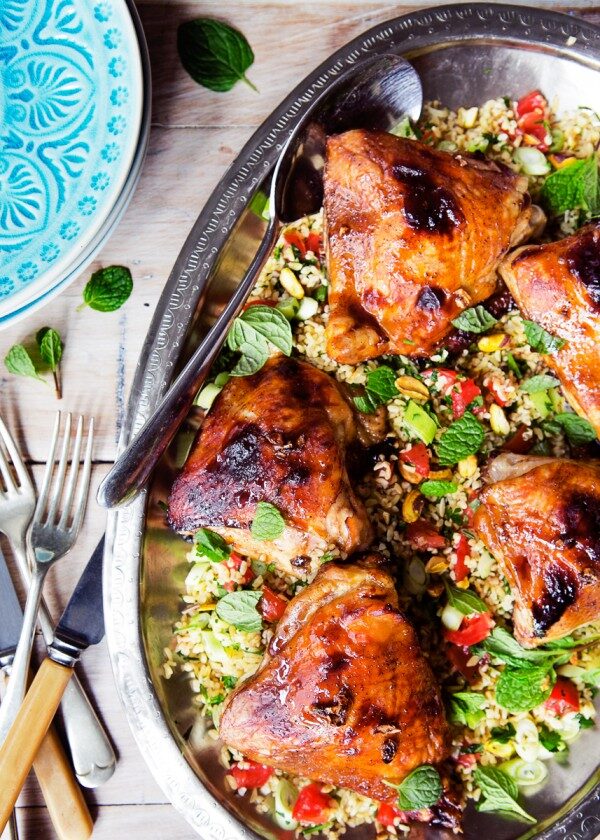 This looks great and tastes even better.
If you happen to have access to fresh pomegranates then I would add the seeds to this as well.  Scatter them over just before serving.
Ingredients
8

free range chicken thighs (bone in, skin on)

4 tablespoons

pomegranate molasses

3 cloves

garlic, finely chopped

2 tablespoons

olive oil

1 teaspoon

ground paprika

1 teaspoon

Dijon mustard

3/4 cup

bulghur wheat

2 medium sized

tomatoes, diced

3

spring onions, finely sliced

1/3 cup

mint leaves, roughly torn

1/4 cup

chopped flat leaf parsley

1/3 cup

pistachio nuts, lightly toasted

1 teaspoon

ground allspice

3 tablespoons

extra virgin olive oil

1 tablespoon

lemon juice

extra pomegranate molasses for drizzling
Method
Place the chicken in a resealable plastic bag (or shallow bowl), add pomegranate molasses, garlic, olive oil, paprika, mustard and season with salt and freshly ground black pepper.
Refrigerate for at least an hour but up to 12 hours before cooking.
Preheat the oven to 180 C.
Arrange the chicken in a single layer in a baking dish, cook for 45 minutes or until chicken is glossy brown and well cooked (If the sugars start to burn in the dish then add a little water).
Meanwhile rinse the bulghur wheat in cold water and then place in a bowl, cover with cold water and leave to soak for 10 minutes before draining, patting dry with paper towels and fluffing with a fork.
Place the drained wheat in a large bowl and toss with tomatoes, mint, parsley, pistachios and allspice. Season with salt and freshly ground black pepper and drizzle with combined olive oil and lemon juice.
Arrange the tabbouleh on a platter and top with chicken pieces.  Drizzle with a little pomegranate molasses and serve.